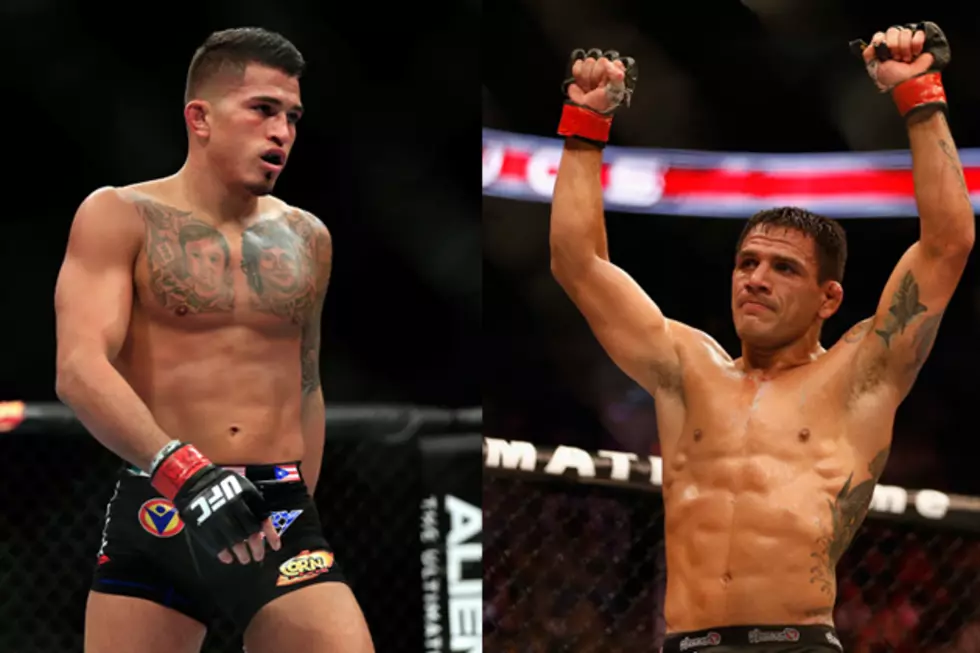 UFC 185 – Bobby's Preview and Predictions
Anthony Pettis/Rafael dos Anjos (Getty Images)
Who's gonna win on Saturday night at UFC 185? Hell I don't know. I'll make some predictions though, and whoever I don't pick will probably end up winning. It's still fun to guess. Check it out and let me know what you think.
You may not even realize that there is a UFC pay per view this weekend. It caught me off guard. I thought, "Certainly there's not another ppv, right? I mean that Rousey ppv was just two weeks ago, right?" Yes, it was just two weeks ago and yes, there is another fight already. But it's a really decent looking card. I'd say it's a better overall card than the Rousey event.
So let's get into this! I'm picking 4 of the 5 fights on the main card. I'm not picking the first fight because, honestly, I don't know a thing about those two guys.
#8 Roy "Big Country" Nelson vs. #9 Alistair "The Reem" Overeem
Here are two top-ten ranked heavyweights that like to throw. Overeem is a former K1 kickboxer…and Nelson, who despite being a skilled submission artist, has won the majority of his fights by KO. I don't anticipate this one going the distance. Nelson has faced, and beaten guys that have a big reach advantage, and I think he'll do it again on Saturday. Nelson has shown he can take a punch, and Overeem has shown he can be knocked out.
My prediction: Roy Nelson by KO/TKO
#1 Johny "Bigg Rigg" Hendricks vs. #5 Matt "The Immortal" Brown
What an exciting fight this should/could be! Hendricks is the former UFC Welterweight Champion and Matt Brown is one of the most exciting and dangerous fighters in the 170 pound division. I've always like Matt Brown and hoped he could get a shot at the belt, but I don't think he's gonna get any closer with this fight. Despite the fact that 6 of his last 7 wins came by KO/TKO – I think Hendricks will get the win. If Hendricks can't knock out Brown, I think he's gonna go to his outstanding wrestling to control this fight. Brown's only hope is to keep the fight standing and use his devastating striking.
My prediction: Johny Hendricks by decision
(C) Carla "Cookie Monster" Esparza vs. #1 Joanna Jedrzejczyk
Esparza is the first champion in the UFC's new women's strawweight division (115 lbs). She's gotten there with dominating wrestling and ground & pound. In her first title defense, she faces the #1 ranked contender Joanna Jedrzejczyk, who is known for her Muay Thai and boxing. Esparza has faced great strikers before, though, and has nullified their skills with her wrestling. I have to think she'll do the same thing on Saturday night. I see Esparza controlling this fight and scoring takedown after takedown…and probably going the distance.
My prediction: Carla Esparza by decision
(C) Anthony "Showtime" Pettis vs. #1 Rafael dos Anjos
This should be another exciting fight, for the UFC Lightweight Championship. Anthony Pettis is the champ and is a big favorite in this fight. He is a great athlete with dynamic and unique striking. Dos Anjos is a tough tough guy with great submission skills. It's guys who have succeeded with two different styles. Which fighter can impose his will and his style? Every "expert" I've seen is picking Pettis to retain the belt, and there is not a thing wrong with that pick. In fact, I should make that same pick – but for some reason, I have a feeling that Dos Anjos can pull off the upset. I don't think he's gonna stop Pettis, but maybe he can grind out a decision.
My prediction: Rafael dos Anjos by decision