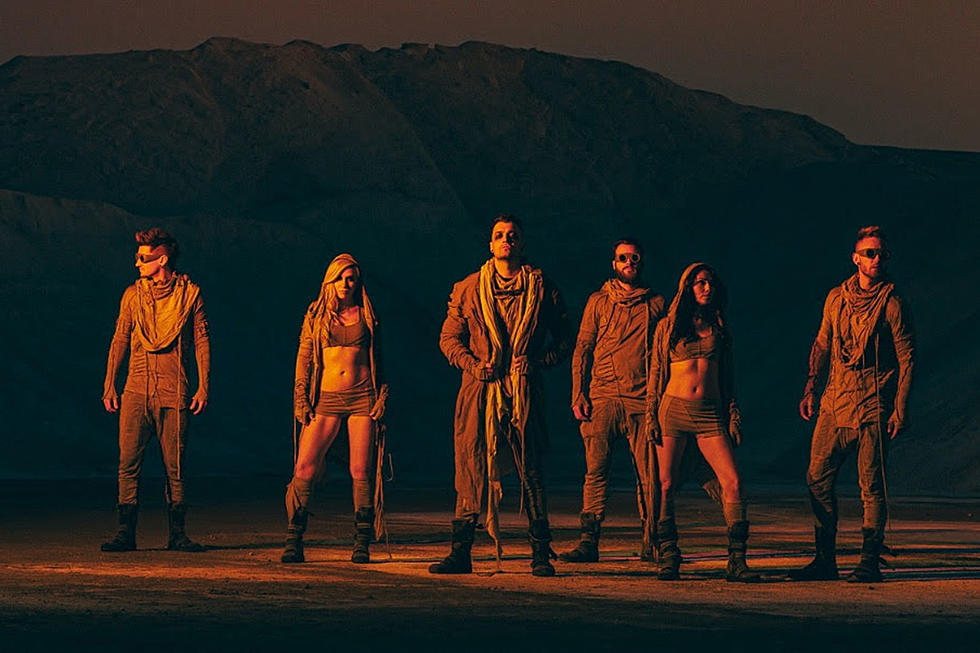 Starset Reveal Major Summer 2022 'Horizons' Tour
Fearless Records
Who's ready for some new demonstrations? Starset will be spreading their transmissions to the masses this summer as they tour in support of their 2021 album, Horizons.
The band had already booked dates for the spring that kick off April 22 in Manchester, New Hampshire, but have now added onto their touring, taking them well into July, and they've also booked a September appearance at the Blue Ridge Rock Festival as well. You can see all of their dates listed below.
RED will join the group through the entirety of the newly added dates, while the opening slot on the tour is divided up amongst Fame on Fire, Smash Into Pieces and Oni.
Tickets for the run are currently available via Starset's website. See all of the dates, cities and venues listed.
Starset 2022 Tour Dates
May 25 - Kansas City, Mo. @ The Truman
May 27 - Denver, Colo. @ Summit Music Hall
May 28 - Salt Lake City, Utah @ The Complex
May 30 - Portland, Ore. @ Roseland Theater
May 31 - Seattle, Wash. @ Neptune Theatre
June 1 - Garden City, Idaho @ Revolution Concert House
June 3 - Sacramento, Calif. @ Ace of Spades
June 4 - Las Vegas, Nev. @ House of Blues
June 5 - San Diego, Calif. @ House of Blues
June 7 - Santa Ana, Calif. @ The Observatory
June 8 - Tempe, Ariz. @ Marquee Theatre
June 10 - Wichita, Kan. @ TempeLive
June 11 - Oklahoma City, Okla. @ Diamond Ballroom
June 12 - Little Rock, Ark. @ Music Hall
June 14 - Atlanta, Ga. @ The Masquerade
June 15 - Knoxville, Tenn. @ The Concourse @ The International
June 17 - Tampa, Fla. @ The Orpheum
June 18 - Fort Lauderdale, Fla. @ Revolution Live
June 19 - Lake Buena Vista, Fla. @ House of Blues Orlando
June 21 - Chattanooga, Tenn. @ The Signal
June 22 - Charleston, S.C. @ Charleston Music Hall
June 24 - Norfolk, Va. @ The NorVa
June 25 - Baltimore, Md. @ Rams Head Live
June 26 - Sayreville, N.J. @ Starland Ballroom
June 28 - Albany, N.Y. @ Empire Live
June 29 - Huntington, N.Y. @ The Paramount
July 1 - Syracuse, N.Y. @ Sharkey's
July 2 - South Burlington, Vt. @ Higher Ground
July 3 - Montreal, Quebec @ Theatre Corona
July 5 - Toronto, Ontario @ The Danforth Music Hall
July 8 - Youngstown, Ohio @ Packard Music Hall
July 9 - Columbus, Ohio @ Kemba Live
July 10 - Indianapolis, Ind. @ The Vogue
July 12 - Joliet, Ill. @ The Forge
July 13 - Louisville, Ky. @ Mercury Ballroom
July 14 - Milwaukee, Wis. @ Eagles Ballroom
July 15 - Grand Rapids, Mich. @ Upheaval Festival
July 16 - Cadott, Wis. @ Rock Fest
Sept. 8-11 - Danville, Va. @ Blue Ridge Rock Fest
Your Guide To Rock + Metal Bands Touring in 2022
Rock + Metal Bands Touring Schedules for 2022