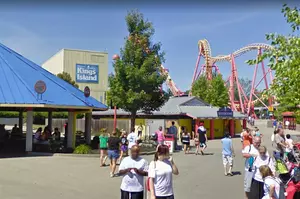 King Island Will Go to Cashless Payment System this Month
Google Street View
Depending on who you are you may or may not be overjoyed by this news.  On one hand, you don't have to worry about carrying a lot of money around an amusement park.  On the other, you may prefer to pay for certain things, like a day at Kings Island, in cash.  Either way, you should be aware of the big news that starting this very month Kings Island will no longer accept cash payments at their park.
What does this mean for you?  Well, starting mid-July (next week) you will only be able to use credit cards, debit cards, Apple Pay, or Google Pay for any sort of transaction at Kings Island.  The main reason the park is going to a cashless system is that, according to the park's website, it will be faster and more secure.
Now, let's say you are the type of person who would prefer to use cash for a day at the amusement park.  You are not going to be turned away from a fun day at Kings Island.  There will be multiple Cash-to-Card kiosks set up around the park where you can transfer your cash into a payment card.  Plus, that card will be good anywhere you need to make a purchase; not just Kings Island.
I'm sure at first there is going to be some pushback from people on the new system but it's honestly not a bad idea.  Carrying a lot of cash around an amusement park can be a bit worrisome.  Just ask a younger me who may or may not have dropped some money at Holiday World before.  Anyway, if you do plan on heading to Kings Island the rest of the summer make sure you have your cards ready to go.
State Parks Near the Tri-State You Have to Check Out
As the weather warms up, all I want to do is be outside. We've got several state parks around the Tri-State area, they'd be perfect for a day trip or a camping weekend!
LOOK: Stunning vintage photos capture the beauty of America's national parks
Today these parks are located throughout the country in 25 states and the U.S. Virgin Islands. The land encompassing them was either purchased or donated, though much of it had been inhabited by native people for thousands of years before the founding of the United States. These areas are protected and revered as educational resources about the natural world, and as spaces for exploration.
Keep scrolling for 50 vintage photos that show the beauty of America's national parks.