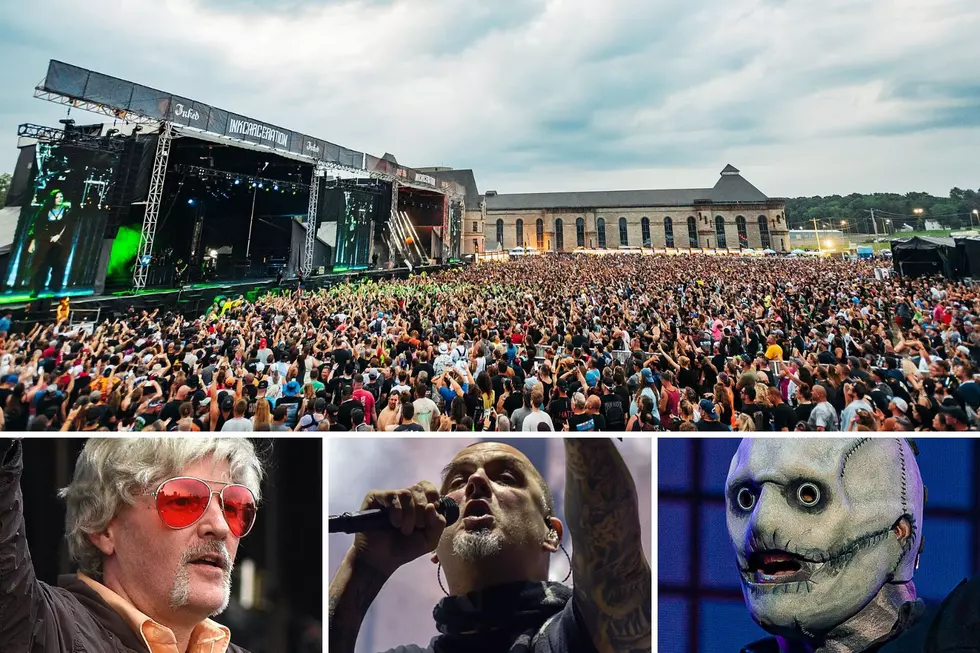 Inkcarceration Music + Tattoo Festival Unveils Full 2023 Lineup – Limp Bizkit, Pantera, Slipknot + A Lot More
Nathan Zucker / Kevin Mazur, Getty Images / Guillermo Legaria Schweizer, Getty Images / Venla Shalin, Getty Images
The 2023 lineup for the Inkcarceration Music and Tattoo Festival at the Ohio State Reformatory in Mansfield, Ohio has officially been unveiled with Limp Bizkit, Pantera and Slipknot tabbed as the headliners of the three-day event.
A total of 68 bands have been booked for the fest that will be held from July 14 through 16 with returning host Jose Mangin of SiriusXM (additionally, learn about Mangin's Headbang for Science charity and scholarship here).
"We're celebrating our fifth anniversary with a killer lineup representing each year of Inkcarceration, as well as over 50 bands who are new to the festival," comments Dan Janssen, General Manager and Co-Creator of Inkcarceration.
"This year is all about serving an incredible experience to our fans that show up for us year after year," he continues, "and we can't wait to celebrate together with them in July!"
That's quite a lot of fresh faces regarding the lineup, which features 22 bands on the Friday and Saturday installments with another 24 set to perform on the closing Sunday. Other high profile names include Volbeat, Highly Suspect, Coal Chamber, Lamb of God, In This Moment, Motionless in White, Megadeth, Bush and Flyleaf with Lacey Sturm.
View the daily lineups further down the page.
Of course, being a music and tattoo festival, there's a lot of other activities happening on the festival grounds, which is where some scenes from the classic movie Shawshank Redemption were filmed. Free tours of the prison are available, there will be nightly tattoo competitions and the award-winning haunted house attraction Blood Prison can be visited for an additional cost.
Single day and weekend passes as well as camping and VIP options are on sale now at the festival's website. VIP passes, however, will be offered in limited quantities.
2023 Inkcarceration Music and Tattoo Festival — Daily Lineups
Friday, July 14
Limp Bizkit
Volbeat
Highly Suspect
Coal Chamber
Hatebreed
P.O.D.
Slaughter To Prevail
We Came As Romans
Fit For A King
Chelsea Grin
Kublai Khan TX
Vended
Mothica
A Killer's Confession
Thousand Below
Fox Lake
Violent New Breed
Dark Signal
Lonewolf
Sid Stratton
Southbound Beretta
Bittersweet Revenge
Saturday, July 15
Pantera
Lamb Of God
In This Moment
Motionless In White
Underoath
The Ghost Inside
Suicide Silence
Memphis May Fire
Mushroomhead
Fire From The Gods
The Violent
Varials
Woe Is Me
Like Moths To Flames
Uncured
Heartsick
Asava,
Set For Tomorrow
Fight From Within
Half Heard Voices
Harmless Habit
Ghostatic
Sunday, July 16
Slipknot
Megadeth
Bush
Flyleaf with Lacey Sturm
Asking Alexandria,
Wage War
GWAR
Crown The Empire
10 Years
Fame On Fire
Dayseeker
Gideon
Eva
Under Fire
Slay Squad
Last Of Our Kind
Clifford
Nerv
Scarlett O'Hara
More Than Never
Traverse The Abyss
Frayle
God Of Nothing
Darkhorse Saloon
The 'Big 4' of 17 Metal Subgenres
Everyone knows the 'Big 4' of thrash metal, but what about some other styles of metal?
The 'Big 4' of 10 Rock + Punk Subgenres