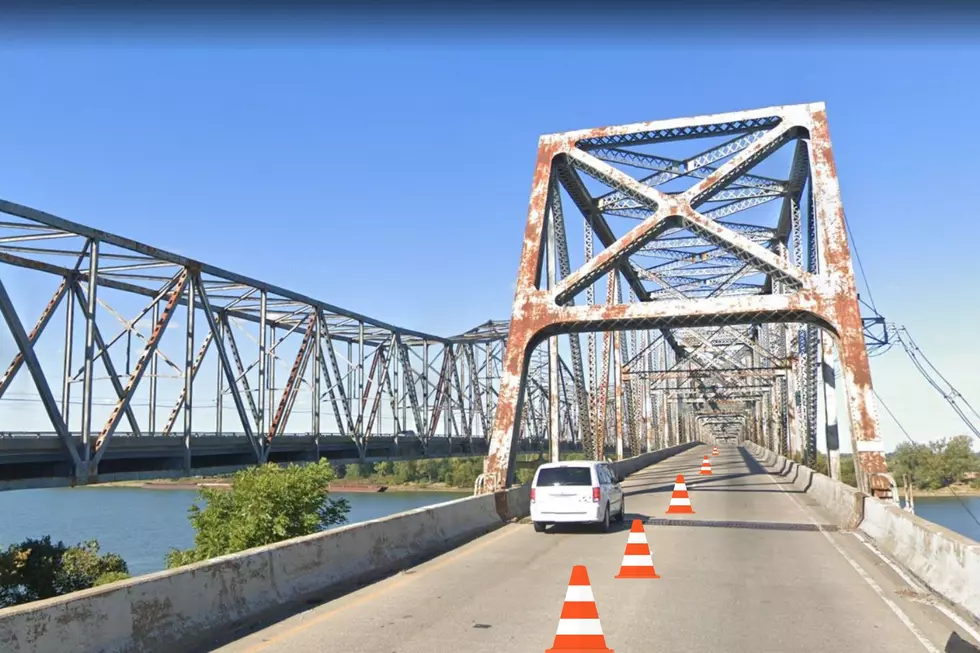 This is Why the Northbound Twin Bridge is Down to One Lane in Henderson
Google Maps / Canva
If you've tried to get from Henderson to Evansville across the northbound side of the Twin Bridges over the last couple of days, you likely noticed traffic wasn't moving quite as fast as it normally does in that direction. Unfortunately, it looks like that's going to continue for the next several days, possibly longer.
Bridge Inspection Underway on the Northbound Twin Bridge from Henderson
According to the Kentucky Transporation Cabinet District 2 (KYTC), the bridge will be down to one lane every day to allow inspection crews adequate space to move equipment around the bridge as they perform a routine inspection. The closures began on Wednesday with no advance warning from the KYTC.
With that said, the Cabinet did eventually explain the reason behind the lane restriction in a post on Facebook.
As the post states, the inspection will require crews to close the lanes twice per day with the first taking place from 9:00 AM until 3:00 PM and the second happening from 5:30 PM until 8:00 PM. The Cabinet did not specify the reason behind the two-and-a-half-hour break between closures. However, they did say there will be no lane closure on Saturday after 3:00 PM.
In a perfect world, the inspection is expected to be done by Friday, August 5th. However, inclement weather could delay the inspection adding extra days to the lane restrictions. Unfortunately, based on the forecast from the National Weather Service in Paducah, it looks like there is a chance Mother Nature could put a wrench in the process a few times with a chance of rain every day until Tuesday.
If coming to Evansville from Henderson is part of your daily routine, it probably wouldn't hurt to leave a little earlier than normal for the next few days to help get where you're needing to go on time.
[Source: Kentucky Transportation Cabinet District 2 on Facebook]
10 Crazy Interesting Facts About Henderson, KY
I've lived in the tri-state area all my life but have never really spent a lot of time in Henderson, KY. So,
Top 10 Facts About Kentucky That You Probably Didn't Know
Do you know the craziest facts about Kentucky? From the official state fossil to the world's largest baseball bat, learn all about it here!