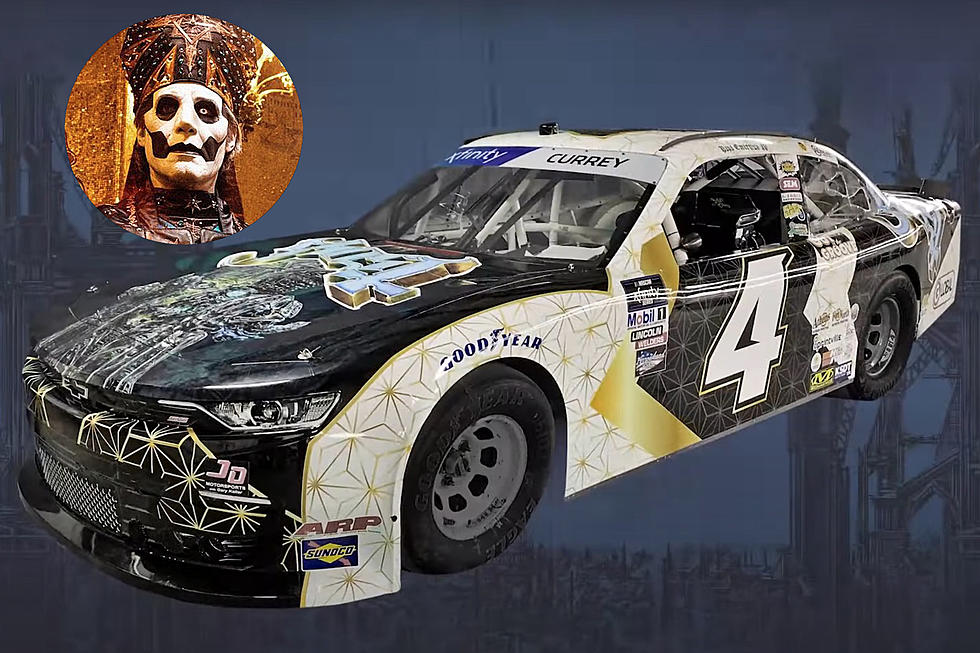 Ghost Reveal Signature 'Papa 4′ NASCAR
NASCAR / Loma Vista
Ghost are cranking their Impera promotion into a new gear! The occult band now sponsors Bailey Curry's No. 4 Chevrolet, committing a special Impera wrap onto his NASCAR.
The 'Papa 4' car will make its debut March 12 during the United Rentals 200 at the Phoenix Raceway.
"I'm ready to rock," says Bailey Currey, who made his Cup Series debut in 2019. "I'm excited about this one, and I know the boys at the shop are excited about this one too, we have a lot of metal fans on our team. Once we heard a deal was imminent, we started working on the cars to Ghost songs. With Ghost on my car, I am ready to take on the world."
"I'm a musician myself," says JD Motorsports VP of Sales & Marketing Tony Priscaro, "So it's rocked working with Ghost and Loma Vista Recordings on this car. We can't wait to put the pedal to the metal."
The partnership is managed by marketing and content creation agency A.E. Engine with promotional support provided by Out of the Groove, and its host Eric Estepp. The Out of the Groove logo will also be featured on the No. 4 Chevrolet.
"Me and Craig (Baroncelli) at A.E. Engine are both huge fans of Ghost," says Eric Estepp. "Fans know I love the band and wear Ghost shirts on my show regularly. I'm constantly getting comments on my channel or people coming up to me at the races talking about how much they love the band, too. So we knew this would be really exciting for the fans."
Estepp helped unveil the Ghost NACAR in a new YouTube video. Check it out below.
Ghost | NASCAR Xfinity Series - Official Reveal
"At A.E. Engine, we're focused on bringing new partners and audiences to the sport," says Craig Baroncelli, CEO and Publisher. "Eric actually introduced me to Ghost. We were texting back and forth about the new Ghost song and video – 'Call Me Little Sunshine' – when it was released in January and we quickly realized the new album – IMPERA – will be released one day prior to the Xfinity Series race at Phoenix Raceway. At that point it was a no-brainer – we had to pursue this opportunity. I am just thankful Ghost and Loma Vista Recordings were so inspired by the idea. They are the ones that brought this car to life."
We recently interviewed Ghost mastermind Tobias Forge about Impera, the current war between Russia and Ukraine, Putin's role in it all and more. Watch here.
16 Things Metalheads Really Need to Get Over
Get over it! Here are 16 things that metalheads really should get over.