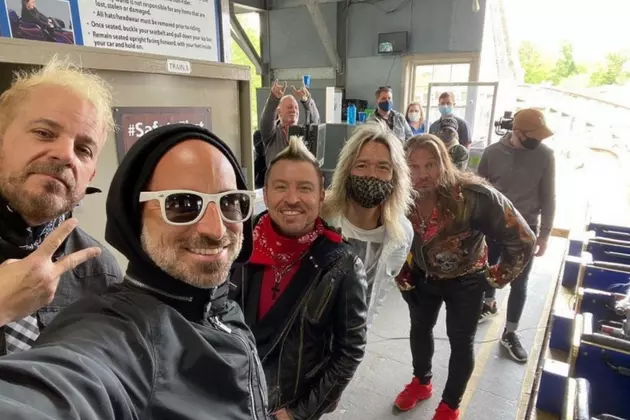 Fozzy's New Music Video Features Holiday World
Fozzy Instagram page
My friend Travis Sams is a HUGE wrestling fan and he showed me a post on Instagram that boggled my mind, it was Chris Jericho and his band Fozzy at Holiday World.
One of the photos they shared on the Fozzy Instagram page were all of them waiting in line at a roller coaster. The coaster is purple which makes me think it's either The Voyage or The Legend. If you look behind them you can see clearly where the rules say "Holiday World is not responsible for any items that are lost, stolen or damaged." Therefore in my professional opinion, after a quick Google search confirming that the only Holiday World in the U.S. is our very own Holiday World in Santa Claus, Indiana, that proves they are in fact at OUR Holiday World. See evidence below:
This post was shared on the Fozzy Instagram page on May 10th, 2021.  It had many of us wondering, what was Fozzy doing at Holiday World?  Look, I love Holiday World as much as the next tri-stater, but did they just need a day off to ride some roller coasters? Or could this be something more?  Turns out today May 25th, we got that answer!
Fozzy has been teasing their new single 'Sane' for quite some time now, and today they announced the new single would be released this coming Friday, May 28th.  The teaser for the song shows Chris Jericho in the front, singing along to 'Sane' while riding The Voyage. How do I know it's The Voyage?  Peep The Thunderbird in the background! So was the whole music video filmed at Holiday World?  Guess we'll have to wait until Friday to see!
The 100 Best Places to Live in the Midwest