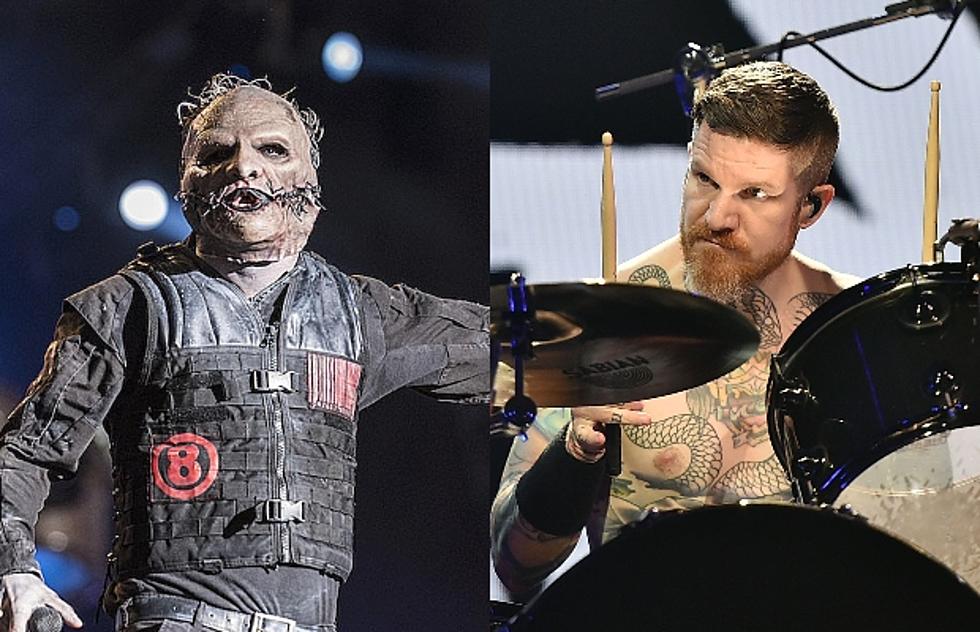 Slipknot, Fall Out Boy + More Donate to Harm's Way After $20,000 Worth of Gear + Merch Stolen
Raphael Dias, Getty Images / Mike Coppola, Getty Images
Hardcore punk rock outfit Harm's Way faced an uncertain future on the road recently when their trailer was stolen following a show in Las Vegas, Nev. last week containing all of their equipment and merchandise. Despite vowing to continue on no matter what, a daunting task remained ahead, one that's gotten a little less disheartening with some assistance from the metal community.
Colin Young, frontman for Twitching Tongues, launched a GoFundMe campaign for the band to help them get back on their feet and stay on the road, and some high profile donations have the drive poised to eclipse its $25,000 goal. Corey Taylor of Slipknot and Stone Sour has contributed $1,000, while Hatebreed's Jamey Jasta, Metal Blade Records head Brian Slagel, Fall Out Boy's Joe Trohman and Tre McCarthy of the label Deathwish Inc. chipped in with $500 apiece.
Harm's Way reached out to Taylor via their official Twitter page, thanking him for his donation. "Thank you so much for your generosity. Sincerely," they wrote. "We're a family. We help each other," Taylor replied. "Keep being YOU. You're welcome."
"We lost a full back line, guitars/bass, pedals, drums and a fully stocked merch spread to start off the tour with," Harm's Way said in a statement following the theft. "We have absolutely no equipment to play on, everything from this point forward will be an uphill battle against the debt we accumulated overnight which is in excess of over $20,000. There's just no way we can get anywhere close to where we were without the support of our community."
At press time, the GoFundMe had hit $24,655 of the $25,000 goal, looking like this is one story that will have a happy ending.
Slipknot Albums Ranked Worst to Best
Corey Taylor Plays Wikipedia: Fact or Fiction?