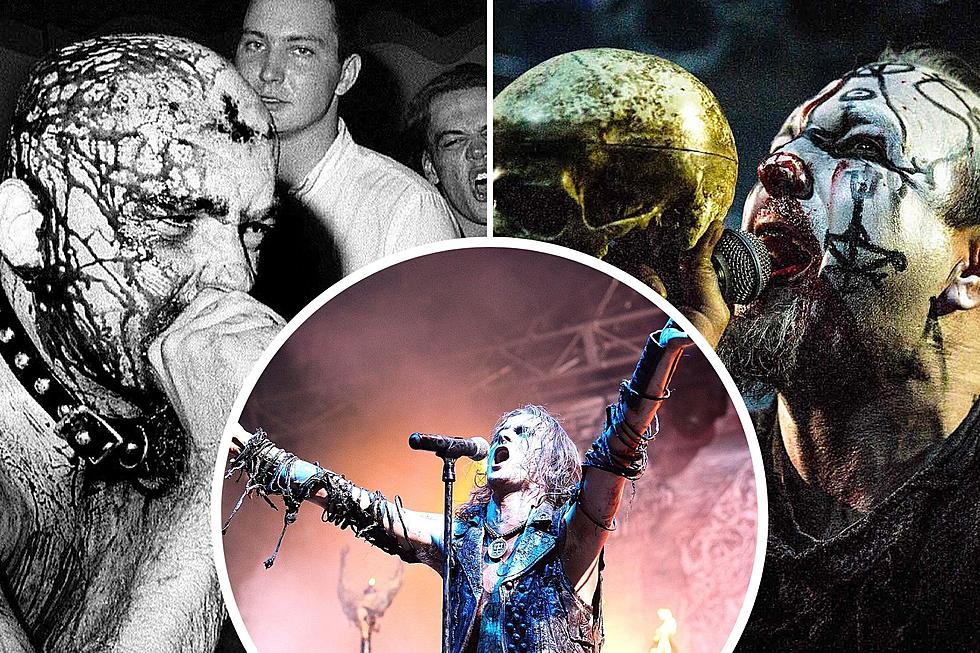 10 Most Terrifying Live Bands
Frank Mullen/WireImage, Getty Images / Mark Metcalfe,Getty Images / UIG via Getty Images
Here are the 10 most terrifying live bands.
Stage sets and other non-musical elements can help bands to create a truly unforgettable live show; some of our favorite artists use props, lighting, pyro, etc. to build appropriately horrifying settings for their equally gruesome songs. In our opinion, these 10 acts have harnessed frightening elements the most effectively, making them the 10 Most Terrifying Live Bands.
One of the most evil sonic ceremonies you can witness is Behemoth live. Beyond the blood, fire and iconography, Behemoth turn each show into a black mass, practicing magick and Satanic worship every night. Ever since the release of The Satanist, Behemoth have ramped up their live show to create the most intense experience possible, and if you're up front, you may even receive communion.
Gorgoroth's 2004 Black Mass in Krakow was so controversial that the concert footage was originally confiscated by police. It was eventually released in 2008, depicting sheep heads on stakes, crucified nude models and 80 liters of sheep blood. Black Mass Krakow is still the most legitimately terrifying concert ever filmed, as Gorgoroth turned their stage into a living image from Hell.
READ MORE: The 31 Scariest Metal Album Covers of All Time
Some of these live bands are terrifying due to the legitimate danger of attending the gig. The Dillinger Escape Plan put on some of the most insane shows in rock history, and if you were in the front 10 rows, you were probably smashed in the head by either Greg Puciato or Ben Weinman. Same deal goes for GG Allin, but being on the receiving end of violence was nothing compared to getting Allin's urine or feces thrown at you.
Check out our picks for the 10 Most Terrifying Live Bands in the Loud List below.
10 Most Terrifying Live Bands
23 Rock + Metal Icons You Can Easily Be for Halloween
Doesn't take much to look like these rockers.