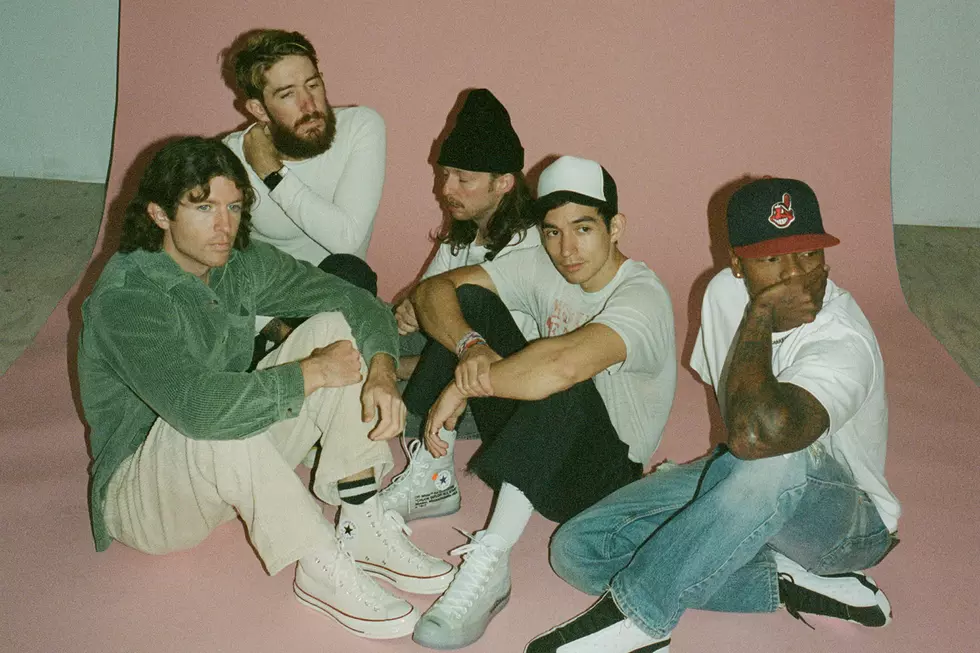 Turnstile Drop New Song 'Alien Love Call' + Announce New Album
Roadrunner / Photo by Jimmy Fontaine
Following the release of their surprise EP Turnstile Love Connection in June, hardcore outfit Turnstile have dropped another new song called "Alien Love Call," and have announced a new album titled Glow On. 
"Alien Love Call" is a mellow song with a soothing melody and dreamy vocals, which makes it quite the juxtaposition to its music video, which features high-energy footage from some of the band's live performances. It features guest vocals from Blood Orange, who also appears on the Glow On tracks "Lonely Dezires" and "Endless."
Check out "Alien Love Call" video and its lyrics below, and see the album art for Glow On and its track listing underneath. The album will be out Aug. 27 on Roadrunner Records — pre-order it here now.
The band consists of vocalist Brendan Yates, guitarists Brady Ebert and Pat McCrory, bassist Franz Lyons and drummer Daniel Fang.
Turnstile will also be hitting the road later this summer for a series of U.S. dates, followed by a handful of festival appearances in 2022. See their full list of scheduled performances on their website.
Turnstile, 'Alien Love Call' Lyrics
Can't be the only one
Can't be the only one
Can't be the only one

 

All my glow is on
Can the will be strong?
Can't be the only one

 

Light inside of me
Hard enough to see
What else could it mean?

 

Love is in the heart
It came like a dream
Loners out to roam
Sewn at the seam

 

Light inside of me
Hard enough to be
Locked inside my heart
Floating in the dark
Turnstile - 'Alien Love Call' featuring Blood Orange
Turnstile 'Glow On' Album Art + Track Listing
1. Mystery
2. Blackout
3. Don't Play
4. Underwater Boi
5. Holiday
6. Humanoid / Shake It Up
7. Endless
8. Fly Again
9. Alien Love Call (feat. Blood Orange)
10. Wild Wrld
11. Dance-Off
12. New Heart Design
13. T.L.C. (Turnstile Love Connection)
14. No Surprise
15. Lonely Dezires (feat. Blood Orange)
27 Bands Who Were (Mostly) Teenagers When Their Debut Album Came Out