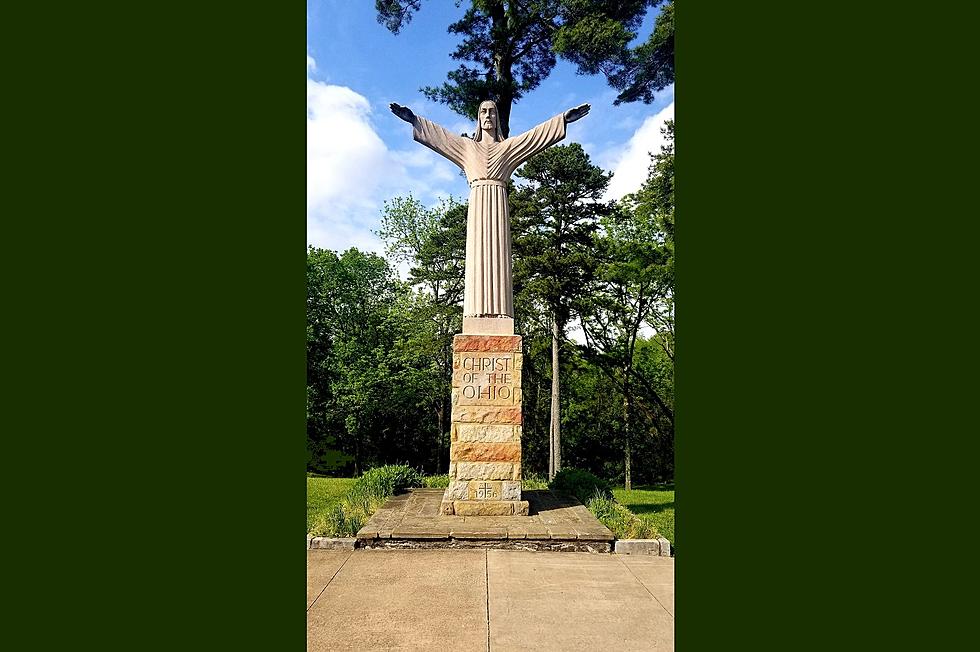 There's a Creepy Abandoned House in Southern Indiana Next to 'Christ of the Ohio' [PHOTOS]
Dave Spencer/Townsquare Media
Last spring, we went driving through southern Indiana to do one of my favorite things in the world--to see what we could see.
'CHRIST OF THE OHIO'
One thing I most definitely wanted to see that you CAN'T see from Indiana State Road 66 is "Christ of the Ohio" in Troy. You just can't. It's there for the river traffic and what a sight that must be as you come around the river bend.
Years and years ago, when my family would hop in the van and we'd go for a drive, that was usually a destination; my dad loved it. He was fascinated by it. How he discovered it when he drove for a cookie and cracker company (I think it was Lance) back in the was driving an ambulance to Tell City back in the 1950s, I'll never know. Again, if you're driving on 66, you don't know it's there unless you KNOW it's there.
A NEW DISCOVERY AT 'CHRIST OF THE OHIO'
Last spring, when we went, it was a beautiful day and, in addition to taking pictures, we just sat and enjoyed the amazing breeze. Then we noticed a path on the other side of the parking area and went for a walk. It wasn't long before we ran up on this.
Now, if Batman were real, that would mean his villains would be, too. And I don't imagine you could find a better hideout for Poison Ivy than this creepy building establishment. And by the way, it's so overgrown, the front door looks more like a portal than a front door. But we weren't interested in entering another dimension that day, so we moved on.
Here's the thing...I have yet to find out how old it is, who may have lived there (that would be extremely difficult), or if maybe it was some kind of caretaker's headquarters. I just don't know.
ABANDONED HOME
I've done a lot of research into "Christ of the Ohio" but never came across anything that would clue me in as to the purpose or the history of that old trailer. There wasn't a "No Trespassing" sign anywhere.
"Christ of the Ohio" is on Fulton Hill in Troy. Turn onto Main Street from SR 66, then take a right on Market Street. Drive straight and keep going up that hill until you get just past a driveway that has a "Private Drive" sign in front of it. Take the next right and you'll be at your destination.
No clue.
But it IS creepy and worth a look should you ever decide to take a drive up the hill to visit one of the tri-state's most unique attractions.
Take a Look Inside Indiana Monastery Converted Into Incredible Mansion
The Indianapolis mansion was posted on the Facebook group, Zillow Gone Wild. Here are some of the awesome photos of the property and the, both, informative and funny comments from the post comments.
SEE: 11 Unique Attractions You'll Only Find in Indiana
SEE: 11 Unique Attractions You'll Only Find in Indiana