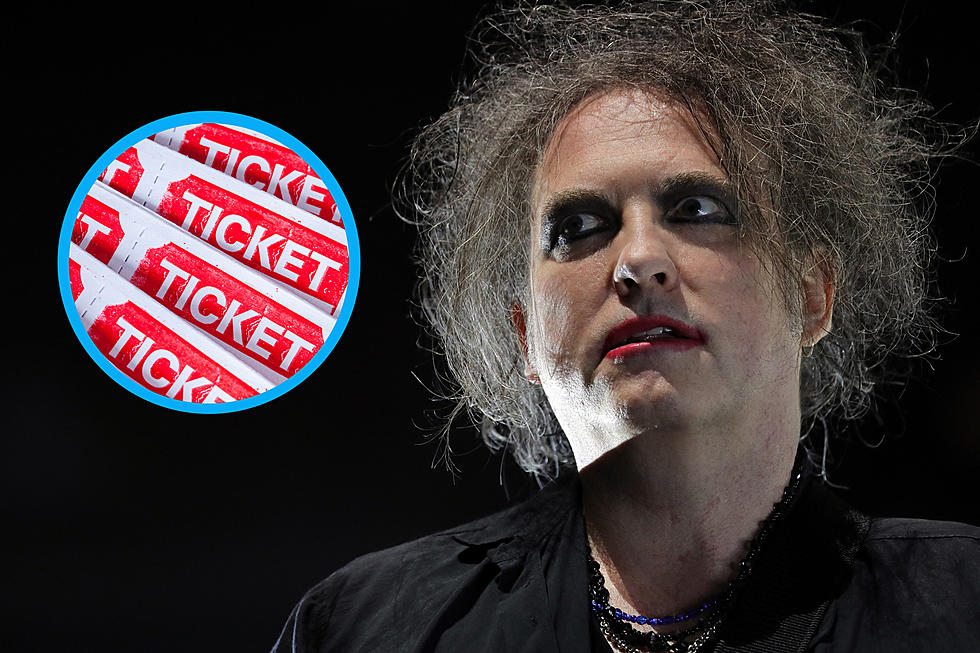 The Cure's Robert Smith 'Sickened' by Ticketmaster Fees 'Debacle'
Nielson Barnard, Getty Images
Despite The Cure's best efforts to thwart scalpers and hold down ticket pricing for their North American tour, there were still plenty of people upset after yesterday's first day of ticketing as fans noted Ticketmaster's fees eclipsing the price of the actual ticket in some markets and others noting technical issues and finding tickets on secondary sales markets. While some fans may be upset, The Cure frontman Robert Smith also shared his frustration via social media late Wednesday (March 15) as well.
The Cure have been very transparent since announcing their first U.S. tour since 2016 what their plan was and what they hoped to accomplish in keeping ticket prices low and limiting access for scalpers. "We had final say in our ticket pricing for this upcoming tour, and didn't want those prices instantly and horribly distorted by resale," Smith commented ahead of the ticket sale. He later noted, "We didn't agree to the dynamic pricing / price surging / platinum ticket thing, because it itself is a bit of a scam? A separate conversation."
The singer later returned to clarify his statement, explaining, "What I meant by this bit was ...I had a separate conversation about 'Platinum,' to see if I had misunderstood something ... but I hadn't! It is a greedy scam - and all artists have the choice not to participate ... if no artists participated, it would cease to exist."
READ MORE: The Cure Debut Two New Songs at 2022 Tour Kickoff, Their First New Music Since 2008
But, as ticket sales went on through Wednesday through Ticketmaster's Verified Fan platform, fans began to post some of their issues buying tickets, including how in some markets fans paid more in fees than the actual face value of the ticket.
One of the most widely circulated tweets, seen below, shows the cost of four tickets at $80 ($20 per ticket). There's two fees associated with each ticket — Service Fee ($11.65 per ticket) and Facility Charge ($10 per ticket) — as well as one flat Order Processing Fee of $5.50.
The checkout total was $172.10 — $92.10 higher than the cost of the tickets and, when removing the $5.50 Order Processing Fee not directly associated with each ticket, but rather the one order on the whole, that's still $87.10 more than the original $80 for four tickets.
There were also reports that began to surface of The Cure's tickets showing up on resale sites. As those reports began to roll in, Smith returned to social media to express his angst over what he was seeing.
"I AM AS SICKENED AS YOU ALL ARE BY TODAY'S TICKETMASTER 'FEES' DEBACLE. TO BE VERY CLEAR: THE ARTIST HAS NO WAY TO LIMIT THEM. I HAVE BEEN ASKING HOW THEY ARE JUSTIFIED. IF I GET ANYTHING COHERENT BY WAY OF AN ANSWER I WILL LET YOU ALL KNOW," said Smith, while writing in ALL CAPS, which often notes shouting on Twitter. (That said, there are plenty of other posts from the vocalist that have also used the CAPS lock).
He soon added to the discussion, weighing in on the fact that some tickets still found their way to secondary sales sites. "I HAVE BEEN TOLD: StubHub has pulled listings in all markets except NY, Chicago, Denver (IE. CITIES IN STATES THAT HAVE LAWS PROTECTING SCALPERS). PLEASE DON'T BUY FROM THE SCALPERS - THERE ARE STILL TICKETS AVAILABLE - IT IS JUST A VERY SLOW PROCESS...," he remarked, before making an observation about scalpers and the ticketing process. "I WILL BE BACK IF I GET ANYTHING SERIOUS ON THE TM FEES... IN THE MEANTIME, I AM COMPELLED TO NOTE DOWN MY OBVIOUS RECURRING ELEPHANT IN THE ROOM THOUGHT... THAT IF NO-ONE BOUGHT FROM SCALPERS... THEN... X"
What Does Ticketmaster Say About the Fees They Charge?
Less than a week ago (March 9), it was first reported by Billboard that Ticketmaster, who came under the U.S. government's scrutiny following the Swift fiasco, are now engaging in a plan to better educate customers and lawmakers about all of those fees that stack on to purchases.
Live Nation president/CEO Michael Rapino told investors, "We've got to now go out and do a much better job so policymakers and consumers understand how the business operates. We've historically not had a big incentive to shout out loud that venues are charging high service fees or artist costs are expensive. But I think now [that] education is paramount."
It's worth noting, again, that Ticketmaster is owned by Live Nation, owner and operator of over 100 venues in the United States alone.
Meanwhile, late last year, President Biden announced an initiative to help spare the public from so-called "junk fees," calling them "unfair" and "deceptive."
Dubbed the "Shows of a Lost World" tour, The Cure's 30-date venture will kick off on May 10 in New Orleans, trekking through several major markets in the U.S. and Canada with things wrapping up on June 1 in Miami.
Ticketmaster's Verified Fan registration for The Cure's tour closed on Monday, March 13. The site does note, "If you missed the registration window for the sale, make sure to add The Cure to your favorites on Ticketmaster so you can be the first to know when they come back to a city near you."
20 Best Selling Hard Rock + Metal Albums in the United States
These are the 20 best selling hard rock + metal albums in the United States