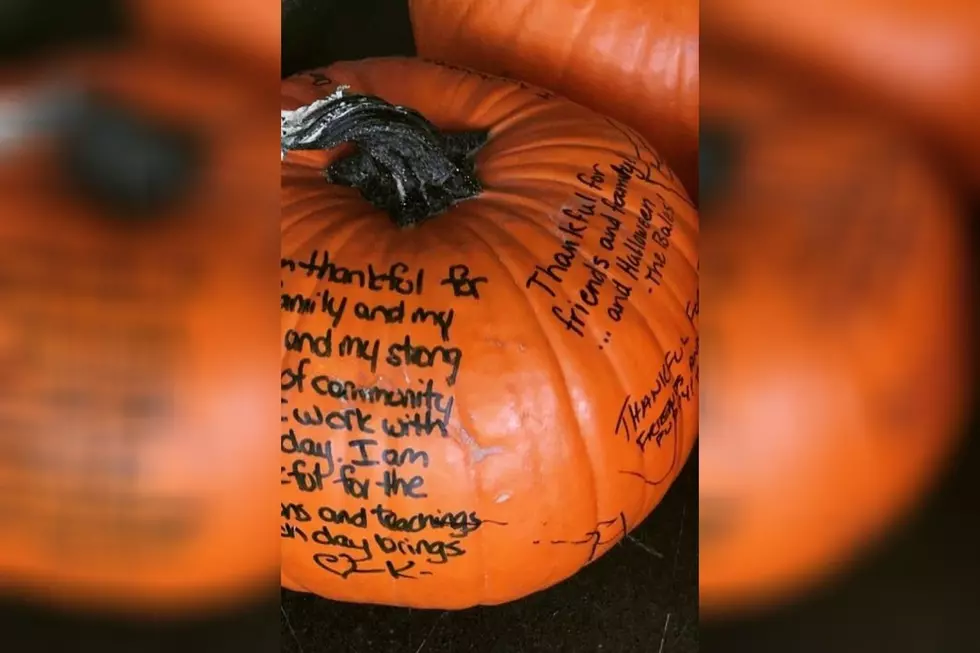 Thankful Pumpkin Idea Is Thankfully Spreading All Over The World, Take That 2020
BokeGRojnrz/Instagram
Thanksgiving is a reminder to all of us to stop and reflect on the things we are thankful for in our lives. It seems like, more and more, Thanksgiving is just a word that means turkey, pumpkin pie, football, parades and a day the is one step closer to Christmas. We have trouble counting our blessings. Maybe, it's because we have so many.
Ever since I became a mother, my family has practiced the tradition of standing around the Thanksgiving table before we eat, joining hands and taking turns vocalizing our many blessings. Once the kids could talk, they said, out loud, a blessing or blessings they were thankful for. It was so cute because they usually said something like cookies.
As my parents grew older and the number of kids and grandkids grew, those Thanksgiving  professions of gratitude meant more and more every year. I remember the last Thanksgiving with my mom was my first time hosting the family dinner. Knowing it was going to be out last dinner of blessings with her made every word of or thankfulness even more meaningful. There were tears and laughter in that circle. The warm feeling we gave each other that day, would last us through her stroke, Hospice and death that later July.
One one has taken it a step further. Amy Latta started a tradition back in 2012 of writing what you are thankful for on a pumpkin. In her blog, Amy Latta Creations, writes,
I was excited to get the project out there, because it is so simple and requires no special skills or materials. Literally anyone can do it, and I was excited to think about other families taking time to focus on gratitude.
At meals, we were playing the 'thankful game,' where we would take turns going around the table and saying things we were grateful for, and I thought it would be fun for him — and for all of us — to physically see just how many blessings that added up to.
Look at this, they really DO add up. Its not hard to fill up a whole pumpkin.
 For 8 years people have been potting about their Thankful Pumpkins, nut it took 2020 to get us all on the bandwagon. Now, more than ever before, we need to focus on gratitude. There is so much going on in the world to bring us down and keep us negative. Yes, things have changed. We are missing things we used to love to do. Its very hard to find he blessings.
This is something you and your kids can do to focus on the things we still have that are so good and meaningful in our lives. I plan in making this a new tradition in my family. Maybe it would be a good one for you to start too.
Enter your number to get our free mobile app