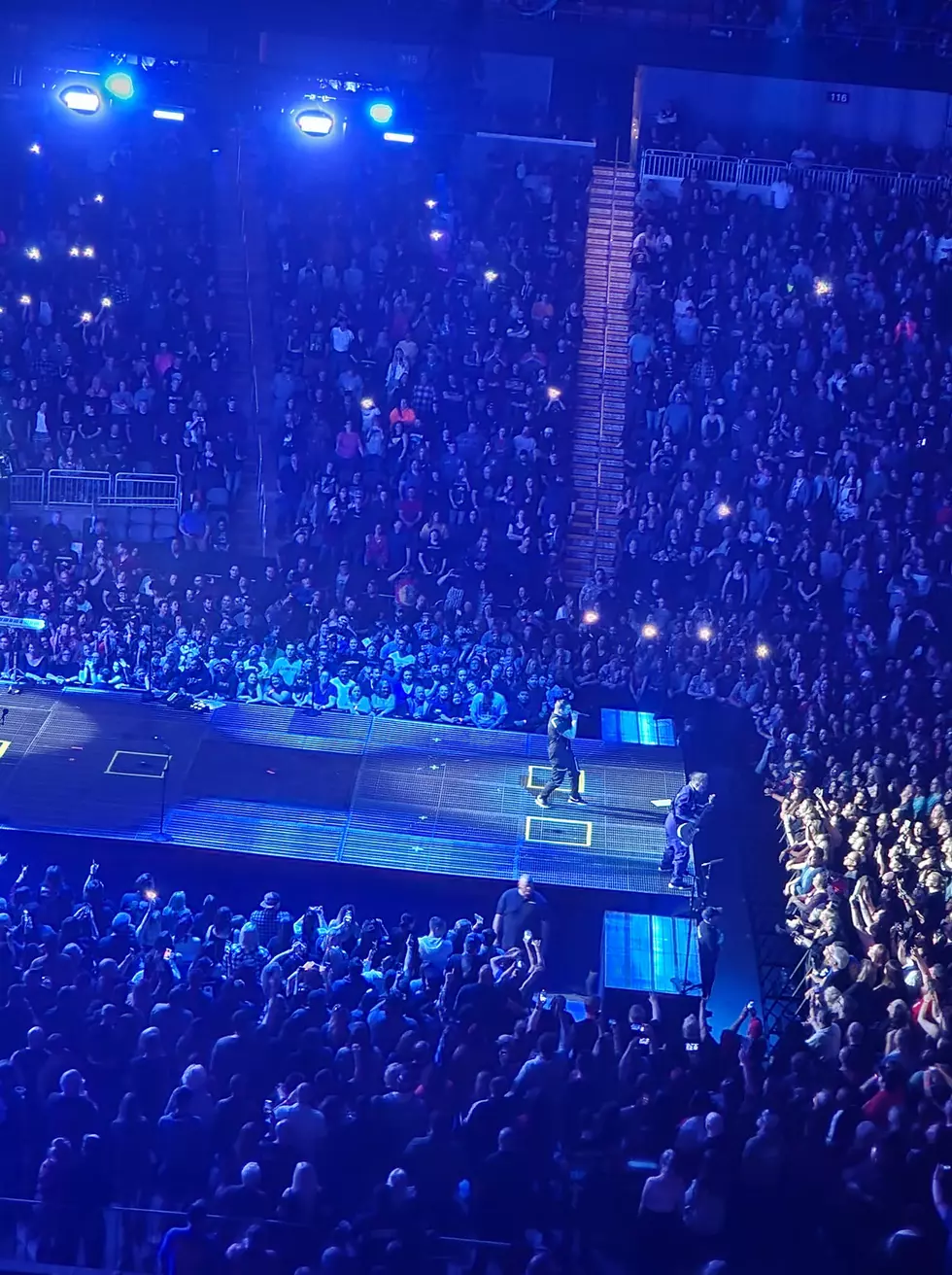 See Fan Photos From Shinedown at Evansville's Ford Center + Setlist & New Song
Michelle Kimmel
Tuesday night, Shinedown brought the heat to Ford Center - literally! The pyrotechnics were, well... flame and we have some fan photos to share with you from the GBF Facebook page.
Diamante Kicked Things Off
The night's 103 GBF Damn Loud Rock Show got started with Diamante and she did not disappoint. The crowd loved her and she was absolutely stunning on stage!
Gorgeous and Powerful
There is no doubt that Diamante has amazing vocal prowess and her stage presence matches that power!
Pretty Reckless
Pretty Reckless were the in-between and they put on an exceptional performance. Taylor Momsen was all over the stage in her giant, platform boots.
Taylor Owned the Stage
The way Taylor Momsen struts the stage is sort of like a Rock n Roll Barbie on a fashion catwalk in Paris.
All Your Favorites
The Pretty Reckless rocked out all of our favorites, including some music from the latest album, Death By Rock n Roll.
Shinedown Headlined and It Was Everything
Shinedown never disappoints when it comes to a live performance.
Positive and Uplifting
In true Shinedown fashion, the show was positive and uplifting with a message of loving each other. The setlist included:
The Saints of Violence
Devil
Planet Zero
State of My Head
45
Get Up
Fly from the Inside
Bully
Daylight
Enemies
Cut the Cord
Second Chance
Unity
Monsters
Diamond Eyes
Wheels
Call Me
Simple Man
Sound of Madness
Something New from Planet Zero
The band performed the latest single off their upcoming album, Planet Zero, which after some adjustments to timing, will debut on July 1, 2022. The new single is called "Daylight" and it will give you chills! [Keep scrolling to see fan-filmed video of their performance of Daylight at Ford Center in Evansville, Indiana.]
Barry is a Beast
Barry Kerch is a beast on drums, and one of the nicest people you'll ever meet. He took some time before the show to chat with our own Kat Mykals. Hear that interview in the link below:
Surrounded By Fans
The stage setup was different from previous Shinedown shows at Ford Center for a couple of reasons. First, it was long, instead of wide, stretching out into the crown and creating three points of access for fans to be stage-side.
Did We Mention the Pyro?
Not only was the stage layout different for this show but so was the pyro. I do not remember this much fire at a rock show in Ford Center before.
Tribute to Taylor
The band took a few moments to perform a tribute to the late Foo Fighter's drummer, Taylor Hawkins.
Brent Smith is a Fan Favorite
Brent is a fan favorite when it comes to frontmen, and rightly so. His energy and charisma onstage are unmatched, and he is just the nicest guy.
Full House
It was an epic crown as rockers from all across the Evansville area, and beyond descended on Ford Center. We met a grandmother who drove 4 hours to bring her grandson all the way from Warren, Indiana.
Let's Do It Again
There is no doubt that last night's Damn Loud Rock Show is one we won't soon forget, but what do you say we do it again soon? Join 103 GBF on May 10th as we present Breaking Benjamin with special guests Seether, Starset, and Lacey Sturm at Ford Center. Tickets for that show are on sale now at Ford Center Box Office and Ticketmaster.com.
Daylight
Shinedown performed "Daylight," the new single from the upcoming album, Planet Zero, and one fan in the crowd captured it and shared the video. Watch it now.
Shinedown Albums Ranked
The early 2000s brought a wealth of upstart hard rock bands that would come to impact radio over the next decade-plus. One of those acts to truly dominate the airwave was Florida rockers
Shinedown
.
The band enjoyed a slow-building success off their debut disc Leave a Whisper, built upon their audience with Us and Them, endured a lineup change and came out bigger than ever with The Sound of Madness and continue to be one of the biggest rock bands going with such albums as Amaryllis and Threat to Survival. But which of these albums ranks as their best work?
Join us below as we scroll through Shinedown's studio album output and rank their discs from weakest to strongest.