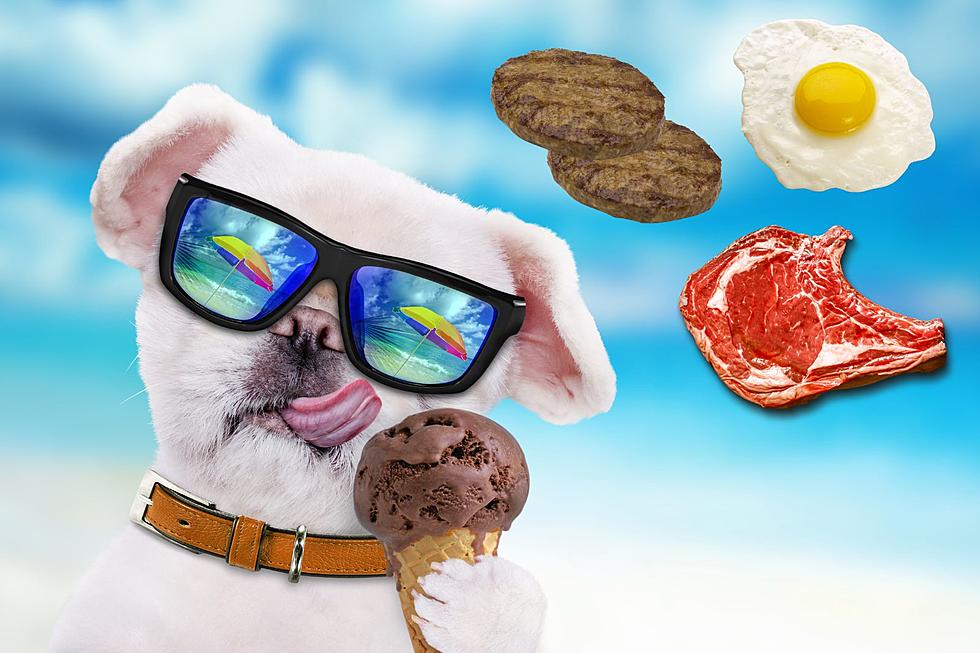 Newburgh Restaurant's Menu Has Gone to the Dogs for a 'Doggone' Good Cause
CANVA
Raise your paw if your dog loves to go out to eat, but is tired of the same ole pup cup. Or perhaps your pup likes to share your meal because most restaurants don't have a doggie menu.
Can Dogs Eat Human Food?
The short answer to that is yes. In fact, I cook for my pitty mix, Molly pretty much every day. She has issues with chicken and poultry, so it's easier to just cook her up a meal because there are not a lot of regular dog foods that are poultry free.
Does Your Dog Enjoy a Nice Meal?
My Molly sure does! And she is more than happy to clean everyone else's plate, too. We will need to work on some table manners before we head out to eat in public.
* Scroll down for a list of foods that are NOT safe for dogs to eat.
Prime Time Doggie Menu
Now, our furry kids have their own menu to order from at Prime Time Pub and Grill in Newburgh, Indiana. This is not just ordering something plain from the human menu, although you can totally do that. This is a super-cute selection of meals just for doggies.
Plain Chicken Breast $4.99
Prime Rib $4.99
Plain Eggs $4.99 *Add Cheese .99
Beef Patty $5.99 *Add Cheese .99
Doggie 'Ice Cream' $1.99
Plus, a portion of all doggie menu sales will benefit a Warrick County animal rescue. That is something to bark about!
Check out the newest edition to our award-winning menu! Dine on our pet-friendly patio and enjoy dinner with your four-legged friends! We've even had a few cats join us! A portion of all doggie menu sales will benefit local shelter animals in need!
LOOK: Here Are 30 Foods That Are Poisonous to Dogs
To prepare yourself for a potential incident, always keep your vet's phone number handy, along with an after-hours clinic you can call in an emergency. The ASPCA Animal Poison Control Center also has a hotline you can call at (888) 426-4435 for advice.
Even with all of these resources, however, the best cure for food poisoning is preventing it in the first place. To give you an idea of what human foods can be dangerous, Stacker has put together a slideshow of 30 common foods to avoid. Take a look to see if there are any that surprise you.
20 Great Dogs for a First Time Owner
Here is a look at 20 dog breeds that might be perfect if you're looking to get your first dog.
Check out these 50 fascinating facts about dogs: