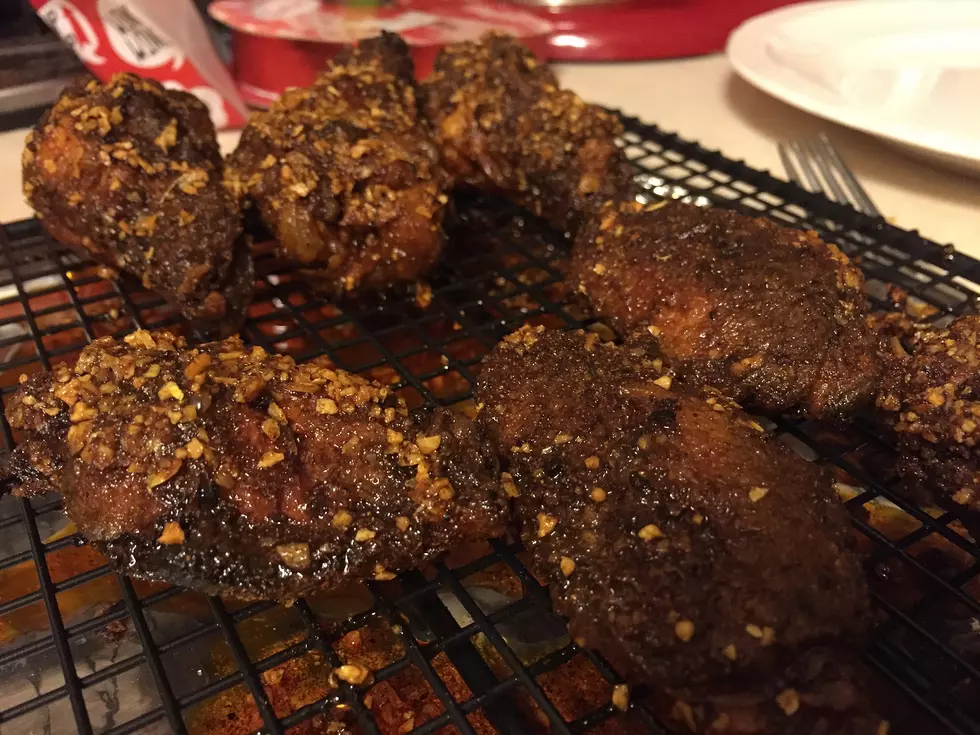 Nashville Hot Wings Are the Best Wings – Here's How to Make Them [RECIPE]
(Ryan O'Bryan)
I became an instant fan of Kentucky Fried Chicken's Nashville-Style Hot Chicken the moment I took my first bite a couple of years ago, and decided I needed to find a recipe so I could make it at home whenever the craving struck. I don't typically make fried chicken at home, but I do like to make chicken wings. I just think their a little easier to make sure they're cooked through and you can fry more of them at one time. I've had really good luck with recipes from Tasty, so I went there first and found this. My mouth waters every time I watch it.
In true Tasty fashion, they make it look really easy, and outside of separating the chicken wings into two parts, this particular recipe is as simple as mixing together ingredients.
Now then, don't confuse "easy" with "time consuming". Between the prep work, the marinating of the chicken in the buttermilk mixture for a few hours (or overnight if possible), and frying the wings in batches (unless you have an industrial size fryer that can cook 20-plus wings at once), this is easily an hour or longer process.
But totally worth it in my opinion.
Here's a look at how mine came out:
And here is a side by side comparison:
Now they have the benefit of a professional studio with lighting that makes everything look good. I have the light on the ceiling of my kitchen. Don't get me wrong, I'm not blaming the lighting, it's clear their wings look more appetizing than mine if we're just going off appearance.
But, don't judge a book by its cover, as they say, when it comes to taste, these are amazing (if I may toot my own horn)! There's just enough heat to burn without being so overwhelming it killed the taste.
3 lb chicken wings
4 cups buttermilk
½ cup lard or olive oil
1 cup flour
Vegetable, Canola, or Peanut Oil for frying
2 eggs
1 tablespoon water
½ cup cayenne powder
6 tablespoons onion powder, or dried minced onion
6 tablespoons garlic powder, or dried minced garlic
6 tablespoons smoked paprika
4 tablespoons brown sugar
2 tablespoons salt
2 tablespoons black pepper
Combine the cayenne, onion, garlic, paprika, brown sugar, salt, and black pepper in medium or large mixing bowl.
In a large zip lock bag, combine one-third of the spice mix with the buttermilk and mix thoroughly. Add the chicken wings, take as much air out of the bag as you can, and zip it up. Store it in the fridge and let it marinate for at least four hours, or overnight.
Drain and rinse the wings in a colander, then pat dry with paper towels.
Mix flour with another one third of the remaining spice mixture in a pie pan, mixing bowl, or large zip lock bag*.
*I prefer the zip lock bag. That way you can seal it up and shake it really well to get a good coat without having to worry about flinging flour all over your counter top.
In a separate dish or bowl, mix the eggs with the water. Coat the wings in the egg mixture, then give them another toss in the flour mix.
Let the wings rest on a drying rack for 5-10 minutes. This gives the natural moisture from the wings and egg mixture a chance to mesh with the flour and keep it stuck to the chicken instead of falling off into the oil.
Fry the wings in batches in either a deep fryer or large skillet for 8-10 minutes, or until the internal temperature reaches 165 degrees with a meat thermometer. Drain on a cooling rack or paper towels.
In a small saucepan, melt the lard or heat the olive oil over low heat. Add the the remaining spice mixture and cook until heated through.
Baste the wings with the lard/oil mix and enjoy!
A Couple of Thoughts...
Definitely marinate the wings overnight if you can. The wings were visibly more plump then when they went into the fridge the day before.
According to the recipe, onion and garlic powder can be substituted in place of the the dried, minced versions. I prefer powder. I don't like the crunch the minced versions bring to the party.
This recipe also works well with boneless wings or chicken tenders.
It can be easily halved or doubled depending on how many people your feeding. I like to make a double batch of seasoning and keep it in an airtight container to use in or on other things like chili, pork chops, etc.