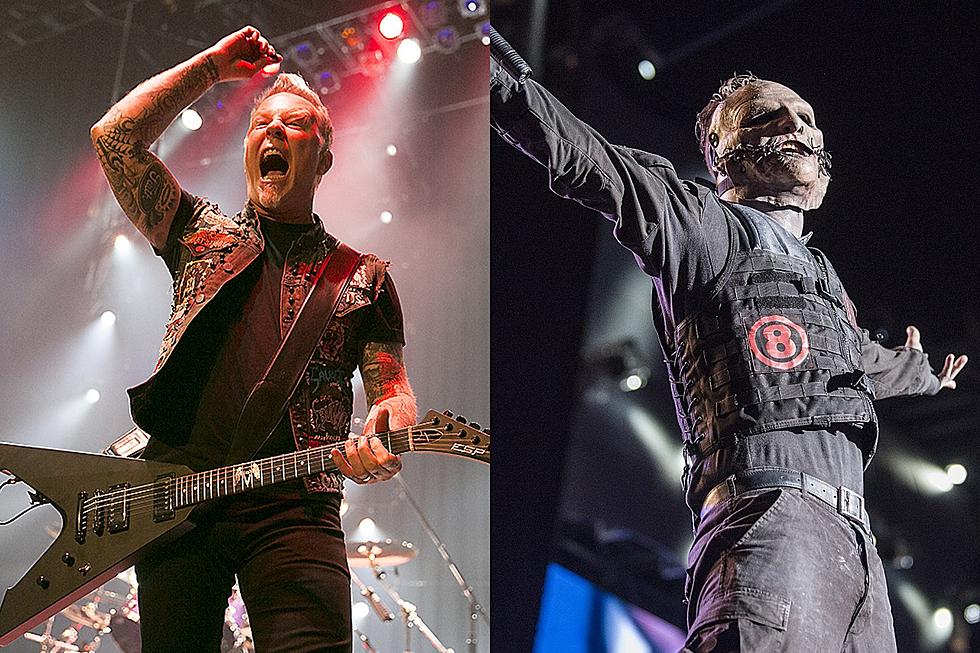 Metallica + Slipknot Will Headline 2020 Sonic Temple Festival, Full Lineup Revealed
Raymond Ahner, Loudwire / Raphael Dias, Getty Images
The annual Sonic Temple Festival has just announced a massive lineup for its second incarnation. Metallica and Slipknot will headline the fest, with the thrash legends performing two unique sets on May 15 and 17.
Much of Metallica's 2020 will be spent on the American festival circuit, performing 10 sets across five major festivals including Epicenter, Welcome to Rockville, Louder Than Life, Aftershock and Sonic Temple.
"That's what the market wants. They want big headliners. They want the bulk," festival creator Danny Wimmer recently told us. "They want different amenities, they want just a different experience than they've gotten in the past, and we're responding to it."
Along with Metallica and Slipknot, the 2020 Sonic Temple Festival lineup will include Deftones, Bring Me the Horizon, Evanescence, Staind, Sublime With Rome, Rancid, Dropkick Murphys, Alter Bridge, Anthrax, The Pretty Reckless, Hellyeah, Pop Evil, Suicidal Tendencies, Testament and many others. Live art and installations will also be featured throughout the three-day fest.
Sonic Temple will be held from May 15-17 in Columbus, Ohio at MAPFRE Stadium. To grab tickets to the festival, head over to the Sonic Temple website.
Metallica will be celebrating James Hetfield's return from rehab with their 2020 shows. To grab a copy of Metallica's latest album, Hardwired… to Self-Destruct, click here.
The 66 Best Metal Songs of the Decade: 2010 - 2019