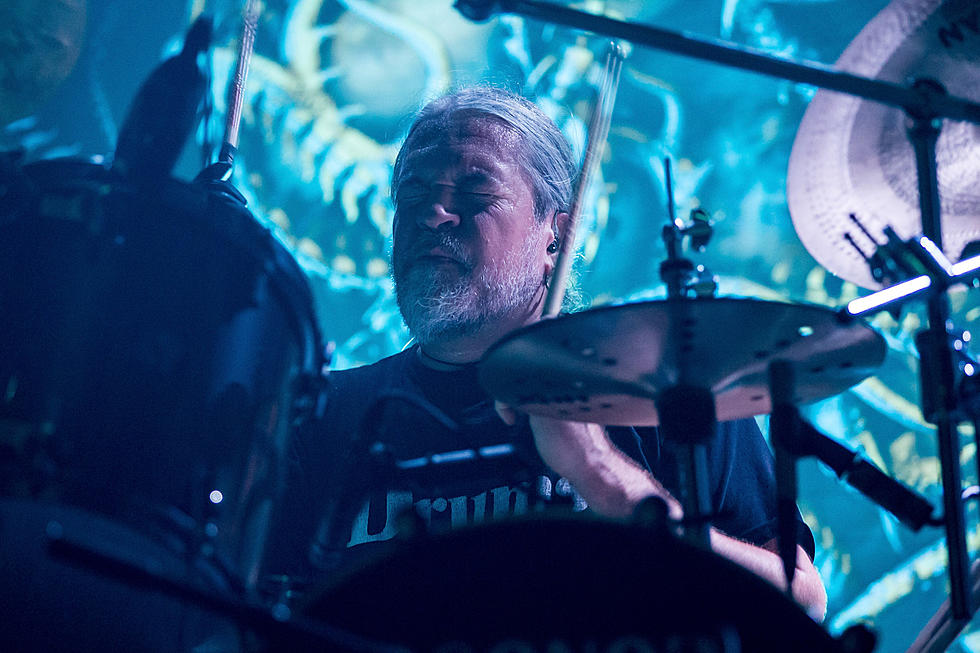 Meshuggah Drummer Tomas Haake Reveals Medical Condition That Forced Tour Postponement
Miikka Skaffari, Getty Images
Back in December, Meshuggah announced that they would be postponing their early 2022 tour dates in order to "prioritize the physical health" of one of their band members who was undergoing medical treatment for a skin condition that hindered him from rehearsals and playing his instrument. In a new interview with Rolling Stone, drummer Tomas Haake has revealed that it is he who has been suffering health concerns, and he elaborated on his condition.
"I have this eczema inside my hands," explained Haake. "I've got to tape up all my fingers and put on gloves just to mess around on the kit, even. That means I haven't really touched the drums since we recorded the album, and that was, like, early April. So I'm almost a year out, without even hitting a drum."
Within the chat, Haake revealed that finding a medical answer for his condition so far has not been easy. "I've been to so many specialists and dermatologists about this at this point and they're all like, 'Huh?' They say it looks like contact eczema, but we've ruled that out because I've done all the tests that you can do, as far as anything that I might come in contact with. It goes up and down, but it's a bummer, for sure, whether you're a drummer or not. I mean, we all need our hands to function for daily life."
While the band issued their optimism for Haake's recovery in their December statement, they acknowledged he would not be able to play by February. As for Haake himself, the musician now states, "These hands are bumming me out, man. I try to stay positive about things like this and not allow myself to just get all depressed over it. It is what it is. We'll see if some new doctor has something important to tell me that helps me clear this up. But, yeah, I mean, if not, I will still have to play."
Haake still has some time before Meshuggah officially return to touring, as the band isn't scheduled to kick off their live performances until mid-September when they share the stage with Torche. Converge was initially part of the tour bill that had been postponed due to the pandemic, but they dropped out once the tour was moved again to the fall of 2022. You can get more details on the scheduled run of dates here.
Meshuggah's new album, Immutable, will be arriving April 1. You can pre-order here.
25 Legendary Extreme Metal Albums With No Weak Songs