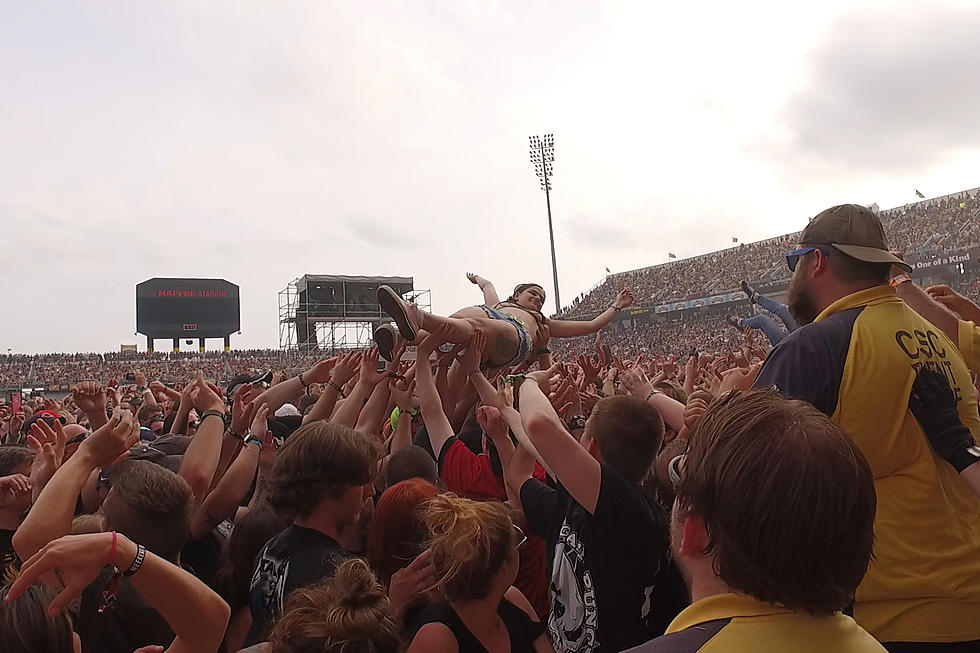 'Long Live Rock' Doc Features Lars Ulrich, Corey Taylor + Lots of Fans
Courtesy of DWP
"It's a place of solidarity, it's a place where the disenfranchised feel like they belong to something bigger than themselves. Part of the reason we all gravitate towards this music is it gives us a sense of belonging and a sense of community." Metallica's Lars Ulrich, a man who is a millionaire many times over thanks to rock and metal audiences, is discussing the music's deep connection with millions of fans worldwide. He's one of many people interviewed in Long Live Rock... Celebrate the Chaos, a documentary that takes a deep dive into the culture of hard and heavy rock. See the film's trailer (and learn how you can be a part of the film via their PledgeMusic campaign) here.
Among the other artists interviewed: Rob Zombie, Jonathan Davis of Korn, M. Shadows of Avenged Sevenfold, Corey Taylor of Slipknot and Stone Sour, Jacoby Shaddix of Papa Roach, Taylor Momsen of the Pretty Reckless, Josh and Jake Kiszka of Greta Van Fleet, Caleb Shomo of Beartooth and Prophets of Rage's Tom Morello, as well as members of Guns N Roses, Five Finger Death Punch and Halestorm.
But some of the best moments in the trailer come from regular fans. One of the film's producers is Gary Spivack of Danny Wimmer Presents, the company behind numerous rock festivals including Rock on the Range (where some of the film was shot), Carolina Rebellion, Welcome to Rockville and Aftershock, among others. He says it was important to not only talk to the artists but also the people who buy the tickets for the shows: "It only seems fitting to invite the fans to collaborate on the creation of what I see as a love letter to our favorite genre of music."
Scott Prince, a law enforcement veteran from Kentucky, notes that he often discusses music with inmates: "Music provides that bond where two people can find a mutual bond: it's not a deputy and an inmate sitting in a jail. We're two people expressing feelings about music that just brings everyone together."
A young lady named Jessie Shrewsbury from West Virginia discusses her love for seeing rock bands playing live, adding, "You can de-stress and just be in the moment."
She states, flatly, "It's a part of my life, and I feel like if I didn't have it, I'd pretty much be a miserable person."
Ohio Governor and former presidential candidate John Kasich adds, "Whether you're a Republican, a Democrat, a liberal or conservative when the music catches you, it doesn't matter, we're all one." We're hoping there's footage of the Governor in a mosh pit in the doc.
Speaking of mosh pits, the film also discusses mosh pits, crowd surfing and "the wall of death." Jacoby Shaddix explains, "It looks violent, but there's a family vibe in there, even though they're beating the tar out of each other. But it also looks at the dark side of rock music: depression and drugs."
"A lot of people in this scene like to drink and do drugs, and that's where they escape. But if you continue down that path, it's just going to lead to dark, bad things," Jonathan Davis says.
"Everyone wants to give you free drugs when you're a rock star. And everyone wants to party with you. But you still have the same problems everyone else has in their life," M. Shadows adds.
Corey Taylor says, bluntly, "People put you up on this pedestal and think you're bulletproof. I struggle with it every day. I want to drink every day. I want to do everything that can kill me. And I don't [do any of them]: because I have this whole list of things that are way more important."
The film's director, Jonathan McHugh knows subcultures: he directed Netflix's Cosplay Universe. And he's no stranger to rock. "Growing up in Staten Island, N.Y. as a kid sneaking into Madison Square Garden to see legends like Black Sabbath, KISS and Led Zeppelin I knew there was only one type of music for me. When I grew up and got a job in the record promotion business in the early '90s one of my first gigs was trying to get Metallica's 'Enter Sandman' on mainstream radio, which was a challenge, due to the hard rock stereotype." Clearly, the man understands how to bring the hard rock and metal subcultures to the mainstream.
Fans can contribute to the film via PledgeMusic.com, with different gifts and perks awarded depending on the amount of the donation. Get more information here.
Top 50 Hard Rock + Metal Live Acts