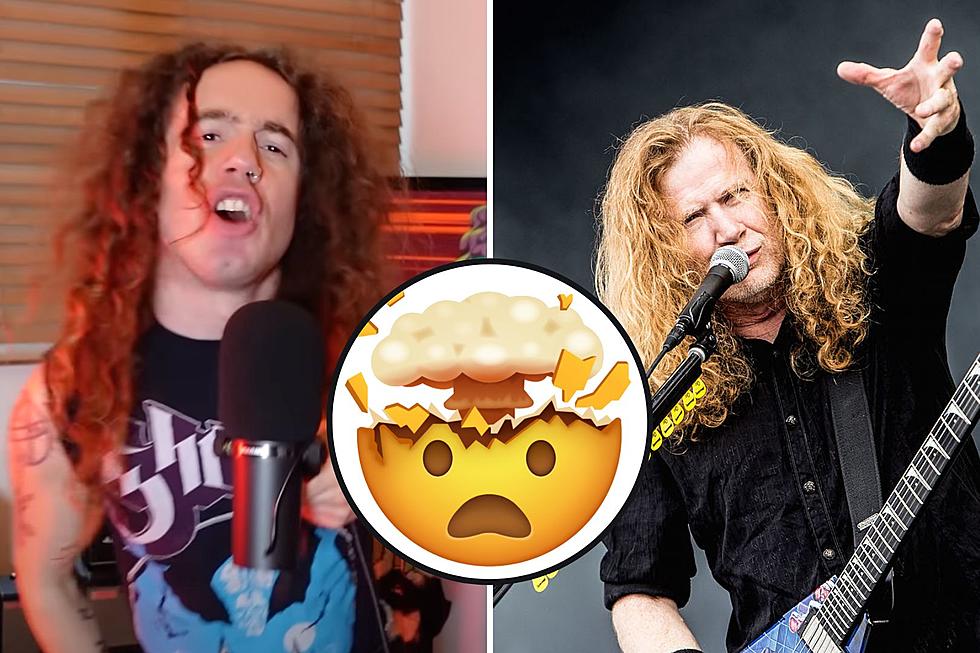 YouTuber Bradley Hall Writes Early '90s Megadeth Album in One Day + It's Actually Decent (Even the Vocals)
YouTube: Bradley Hall / NurPhoto via Getty Images / iOS
YouTuber Bradley Hall issued a challenge to himself and wrote an entire early '90s styled Megadeth album in just one day. What's even more impressive is that it's actually pretty good, even the vocals!
The album is available to listen to on Spotify (hear it below) and Hall uploaded a YouTube video, condensing his Twitch stream of the writing process down to a digestible 11-and-a-half minutes so headbangers can get a sense of what it was all like from start to finish.
"[Megadeth's] album Rust in Peace is without a doubt my favorite metal album of all time, and as much as I think the albums over the past 20 years or so are okay, nothing holds a candle to those classic '90s albums with my boy Marty Friedman," Hall says at the top of the video (transcription via Metal Injection).
Never averse to some smack talk (you'll likely remember Hall as the one who tangled with Metallica's Kirk Hammett over his guitar solo on "Lux Aeterna"), he continues, "So a while back I thought to myself, 'Instead of waiting for Megadeth to stop fuffing around and write a banger album again, why don't I just do it myself?'"
READ MORE: YouTuber Replaces Kirk Hammett's 'Lux Aeterna' Solo With His Own Shred Solo
Describing the challenge, Hall adds, "So I set myself the challenge of writing an entire album in the style of classic Megadeth. To make this monumental task even more interesting, I set myself a time limit of only one day – that's right, just a single 24-hour period to write and record an entire Megadeth album. In addition to prove that I didn't fake this challenge, I decided to stream the entire process live over on my Twitch channel."
The result is an eight-song album that clocks in at a swift 27-and-a-half minutes. Now, that might not seem like a proper album to you, but that's really just because nowadays every band feels compelled to pump out 12 to 14 tracks per album, spanning 55 to 70 minutes in a lot of cases, even though streaming numbers generally indicate that only a small percentage of listeners are making it to those later tracks.
...Anyway, it's quite the ripper! Hall clearly demonstrates a command of Megadeth's musical DNA, a defining trait of the metal YouTuber age and it never ceases to amaze.
Vocally, he does a fine job as well, doing his best to match the unique charisma of Dave Mustaine's voice. It might come off as a piss-take at first, but let's be honest — this is not an easy vocal style to replicate and Hall's admiration is apparent. Lyrically, however, there's a good amount of toilet humor but, hey, the dude only had 24 hours! You're not going to get the genius-level lyricism of "Holy Wars... The Punishment Due" or "Hangar 18" in that short amount of time.
Check it all out below and follow Bradley Hall on YouTube.
Bradley Hall Writes Megadeth Album in One Day
Bradley Hall, Megabeans Album
Every Thrash Metal 'Big 4' Album Ranked
An incredibly diverse collection of albums, ranked from worst to best!
Follow Loudwire's 'Early Thrash: The Beginning & The '90s' playlist
here
.