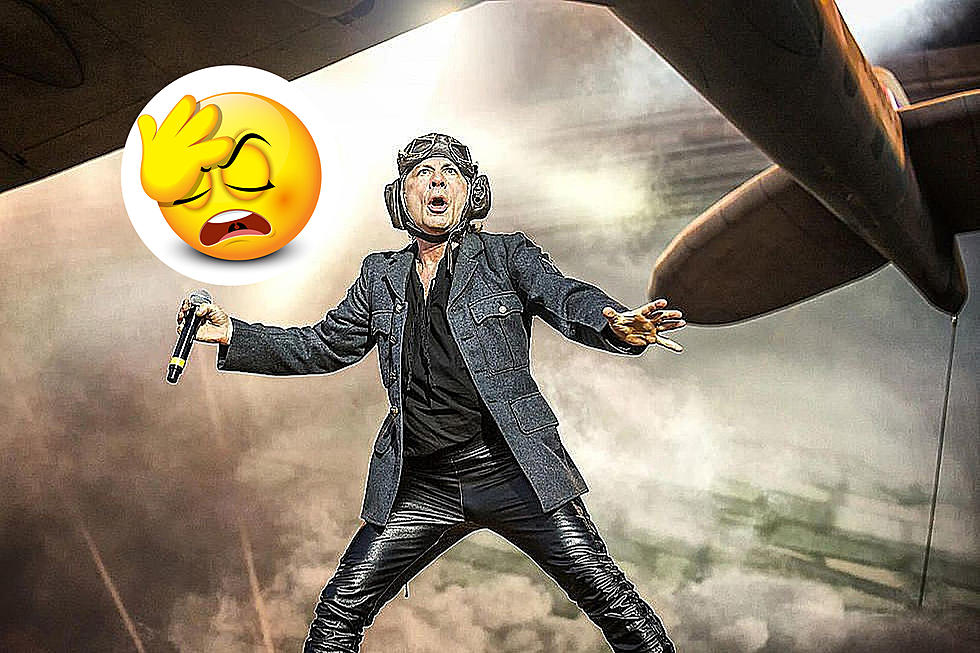 Rock Hall CEO on Iron Maiden's Induction Class Absence – 'We Love That People Care'
Gonzales Photo - Terje Dokken / PYMCA, Universal Images Group via Getty Images / Getty Images
Another year, another chance to increase the metal representation in the Rock and Roll Hall of Fame and another opportunity missed as Iron Maiden, though included on the fan ballot, were not among the names called when the induction list was revealed Wednesday morning (May 3). During a chat with Taryn Daly on the Audacy Check In, Rock and Roll Hall of Fame CEO Greg Harris discussed Iron Maiden's absence from the inductees list as well as commenting on other acts that are going in this year.
As with previous years, it is the Rock Hall's voting body that ultimately determines who will be inducted into the Rock and Roll Hall of Fame, and even though in recent years there has been a "fan ballot," that accounts for just one vote alongside the rest of the voting body.
Iron Maiden were this year's major metal nominee, following a year in which longtime peers Judas Priest were finally inducted while receiving the Musical Excellence award. And, with the new class just announced, much of the attention has been focused on Maiden missing the cut again.
"We love that people care. That they care if they're in or out, and that their fans care," Harris explained when asked about Maiden.
He then added, "The truth is anybody that's nominated, the odds are good that they'll eventually gonna get in. In fact, I think it may be as high as 90 percent eventually go in."
He pointed to Rage Against the Machine as an example. "Rage, this was their sixth time, I believe, fifth time on the ballot, or sixth time. And so sometimes it takes a while," said Harris. "But let's see where it lands. Right now, let's celebrate this year's class, and we can start to debate about next year's class once the spotlight is off of this year's class."
This past weekend, it was revealed that Iron Maiden had the fourth highest total for the annual fan ballot, with 449,682 votes. Interestingly enough, only leading fan vote getter George Michael was among those eventually inducted for this year's class, with Cyndi Lauper, Warren Zevon and Soundgarden all missing the cut though favorites with the fans.
This is not the first time that Iron Maiden have been on the ballot, previously missing out in 2021 as well. In 2018, singer Bruce Dickinson declared that he would refuse the induction, proclaiming, "Rock 'n' roll music does not belong in a mausoleum in Cleveland. It's a living, breathing thing, and if you put it in a museum, then it's dead. It's worse than horrible, it's vulgar." That didn't stop the Rock Hall from nominating the band three years later.
READ MORE: Rock and Roll Hall of Fame Issues New Statement Defining What Rock Music Means
KISS' Paul Stanley spoke up after the band was snubbed the first time, "Regardless of whether it matters to them, Maiden not being in the @rockhall of Fame is INSANITY," Stanley tweeted. "Regardless of who is writing in or not, the Committee must induct them. They have helped spawn an entire genre of music. What else do you need to do??"
While Maiden will have to wait, Rage Against the Machine, Kate Bush, Sheryl Crow, Missy Elliott, Willie Nelson and The Spinners will be going in this year. The ceremony will take place Nov. 3 at Brooklyn's Barclays Center. Meanwhile, you can catch Iron Maiden live. Get your tickets here.
Rock Hall CEO Greg Harris Speaks With Taryn Daly on the Audacy Check In
43 Hard Rock + Metal Acts Who Deserve to Be in the Rock and Roll Hall of Fame