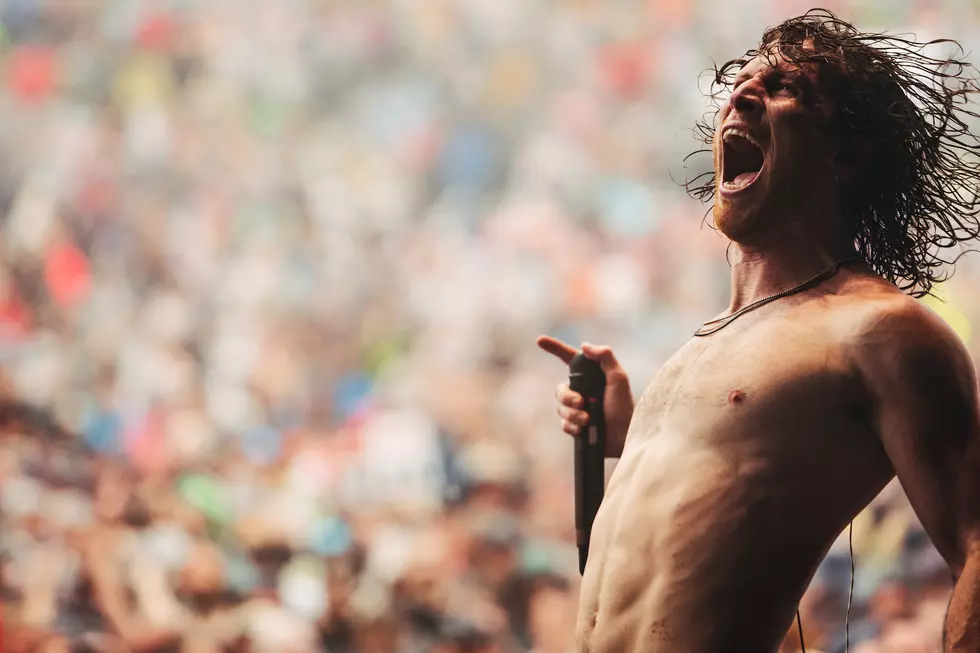 Nothing More Book 2023 Tour With Crown the Empire + Thousand Below
Nathan Zucker
In support of last year's Spirits album, hard rock veterans Nothing More will embark on a headlining tour throughout the U.S. and Canada with special guests Crown the Empire and Thousand Below.
The trek is slated to launch on March 31 in Richmond, Virginia, making a total of 25 stops before wrapping up in San Diego, California on May 5. For Nothing More, they'll be even busier with an appearance on the ShipRocked festival cruise in late January as well as additional U.S. stops on May 6, 26, 27 and 28 without Crown the Empire and Thousand Below in tow.
See the complete list of tour dates, presented by mental health non-profit organization To Write Love on Her Arms, further down the page. Look for tickets to go on sale on Jan. 13 at 10AM local time at this location. Fan club members and those wishing to seek VIP packages will be able to make a purchase today (Jan. 10) starting at 12PM ET.
Chad Moses, Director of Outreach at To Write Love on Her Arms, states, "For the last 17 years, To Write Love on Her Arms has been finding ways to use live music as a means to connect people to local and affordable options for mental health care. In that time, we've been fortunate enough to see some of the very best examples where conversations of mental health have been expressed and received from the stage and in the crowds."
"We've not done this work alone," he continues, "rather these conversations have been cultivated through active relationships with countless fans, music industry professionals, and artists. Within those ranks, Nothing More has proven to be among the most consistent and loyal friends to the organization, and that friendship grew in large part due to how they craft their art. When the band performs a song about mental health—or about hope, or about pain—they aren't treating the stage as a pulpit but instead as an invitation. What they have to say or sing finds its true value in how it is received by the listeners and how those fans choose to live out the next chapters. Simply put, Nothing More is what it looks and sounds like to feel a little less alone, and is proof that our deepest questions and challenges can be fertile ground for building community."
Nothing More 2023 Tour Dates
March 31 — Richmond, Va. @ The National
April 01 — Myrtle Beach, S.C. @ House of Blues
April 02 — St. Petersburg, Fla. @ Jannus Live
April 04 — Harrisburg, Pa. @ HMAC
April 05 — Toronto, Ontario @ The Danforth Music Hall
April 07 — Philadelphia, Pa. @ TLA
April 08 — Worcester, Mass. @ The Palladium
April 09 — New York, N.Y. @ Irving Plaza
April 11 — Evansville, Ind. @ Victory Theatre
April 12 — Dubuque, Ala. @ Five Flags Civic Center
April 13 — Clive, Iowa @ Horizons Event Center
April 15 — Minneapolis, Minn. @ The Fillmore
April 16 — Omaha, Neb. @ The Admiral
April 17 — Denver, Colo. @ Ogden Theater
April 19 — Salt Lake City, Utah @ The Complex
April 21 — Calgary, Alberta @ The Palace Theater
April 22 — Edmonton, Alberta @ Midway
April 24 — Vancouver, British Columbia @ The Commodore Ballroom
April 25 — Boise, Idaho @ The Knitting Factory
April 27 — Seattle, Wash. @ Neptune
April 28 — Portland, Ore. @ The Roseland Theater
April 29 — Spokane, Wash. @ The Knitting Factory
May 01 — Sacramento, Calif. @ Ace of Spades
May 03 — Los Angeles, Calif. @ The Belasco
May 05 — San Diego, Calif. @ Observatory Northpark
May 06 — Phoenix, Ariz. @ AK Chin Pavillion *
May 26 — Bloomington, Ill. @ The Castle Theatre *
May 27 — Moline, Ill. @ The Rust Belt *
May 28 — Columbus, Ohio @ Sonic Temple *
Your Guide to Rock + Metal Bands Touring in 2023
Check out over 100 rock + metal bands' touring schedules for 2023.