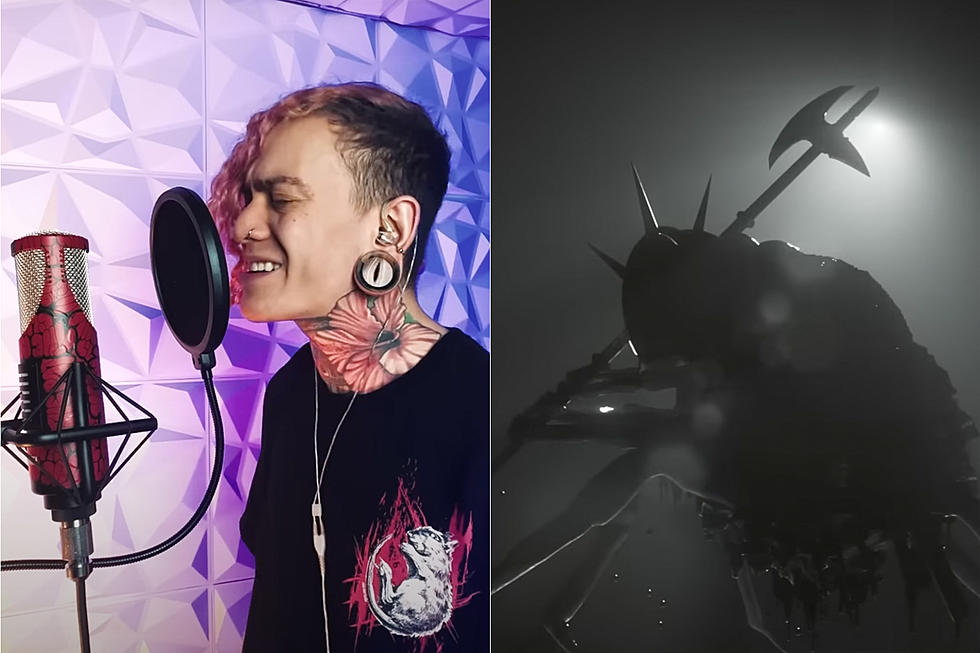 Lorna Shore's Will Ramos Might Break the Internet With Cover of Viral Sleep Token Song
YouTube: The Will Ramos / YouTube: Sleep Token
Good lord, does it get any hotter than this? Over the past couple of years, there may be no buzzier metal band than Lorna Shore. Meanwhile, Sleep Token have emerged as 2023's viral sensation with songs off their forthcoming album populating Spotify's Viral 50 chart for most of the year. Now, Lorna Shore vocalist Will Ramos has decided to cover one of Sleep Token's biggest hits, "Chokehold," showing off a broader vocal range than he typically gets to display in Lorna Shore in the process.
"Sleep Token is putting out their new album on May 19th and I am absolutely loving it so far," says Ramos in the description for his vocal cover. "Vessel's voice is right in my range so I figured I'd keep dropping covers!! On that note, I hope you enjoy my cover of Sleep Token's new song Chokehold!"
The track hit No. 15 on the Hard Rock Digital Song Sales Chart back in late January, but has been a far bigger success on social media where fans have been recording vocal covers of the song on TikTok.
While Ramos' gutturals typically fill out some of Lorna Shore's biggest songs, "Chokehold" provides the singer a chance to expand his horizons, and he passes with flying colors. He's able to capture the emotional melodic heft that Vessel embodies within "Chokehold," and you already knew that he could belt with the best of them when things go gutturally heavy. So, kick back, turn up the volume and watch Will Ramos in action below.
READ MORE: Why Is Everyone Talking About Mystery Band Sleep Token?
Sleep Token's Take Me Back to Eden album is currently on target for a May 19 release. After appearing at the Takedown Festival in Portsmouth, U.K. next month, the band will venture off to Australia in late April for tour dates, with a European trek to follow this summer. Get your Sleep Token tickets here.
Meanwhile, Ramos and Lorna Shore continue to promote their 2022 standout Pain Remains, which was our 2022 Album of the Year. Lorna Shore will be back out on tour later this month, kicking off a U.S. tour leg March 30 in Albany, New York. Get your Lorna Shore tickets here.
Lorna Shore's Will Ramos Covers Sleep Token's "Chokehold"
Sleep Token, "Chokehold"
50 Best Rock + Metal Albums of 2022
In a year with thousands of new albums, here's the very best, presented in chronological order of release.