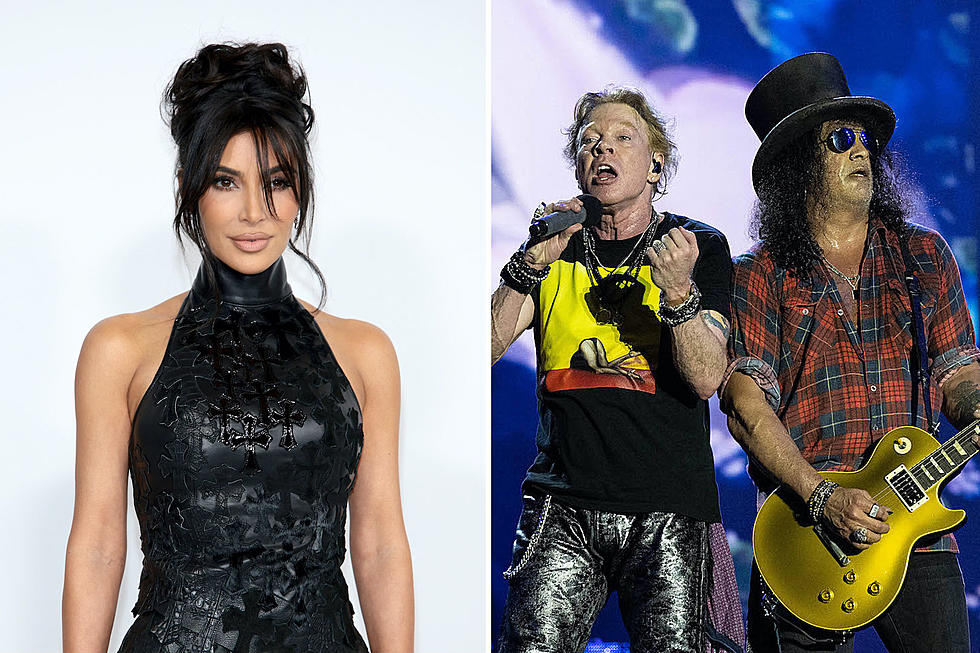 Is Kim Kardashian a Guns N' Roses Fan?
Dimitrios Kambouris, Getty Images / Harry Durrant, Getty Images
Is Kim Kardashian a Guns N' Roses fan? According to a recent post on her social media, it seems that may be the case.
No, she didn't share a photo wearing a Guns N' Roses T-shirt — we know how much disdain the rock and metal community has for people who wear band T-shirts, especially when Kardashian's younger sister Kendall Jenner was photographed in a Slayer shirt. The mega star actually shared a photo listening to the band's Use Your Illusion I track "November Rain" on her Instagram story (though she was listening to the version featured on their 2004 Greatest Hits album instead).
See a screenshot of her Instagram story below.
T-shirt argument aside, a huge celebrity sharing a specific song on social media does more for the band than wearing their logo on an article of clothing does. That isn't to say that Guns N' Roses are in any need of exposure, but if Kardashian can introduce a new wave of fans to their music, then everyone wins. Plus, "November Rain" is a mellow song, and is probably a great introductory track for people who've never heard them before.
We don't know what Kardashian's music tastes are, but we do know that the Kardashian family became tinged with rock 'n' roll when Kourtney Kardashian married Blink-182's Travis Barker. The couple wedded in May of 2022, and just welcomed their first baby together, Rocky Barker, a few days ago. You can actually check out a video of Barker drumming to the baby's heartbeat before he was born below [via TMZ].
READ MORE: 25 Awesome Celebrity Metalheads
It's totally possible that Barker introduced his sister-in-law to rock music, but it's also entirely possible that she just has good taste on her own.
Regardless, welcome to the jungle, Kim.
Travis Barker Drumming to Baby's Heartbeat

Every Guns N' Roses Song Ranked
All of Guns N' Roses' songs ranked.