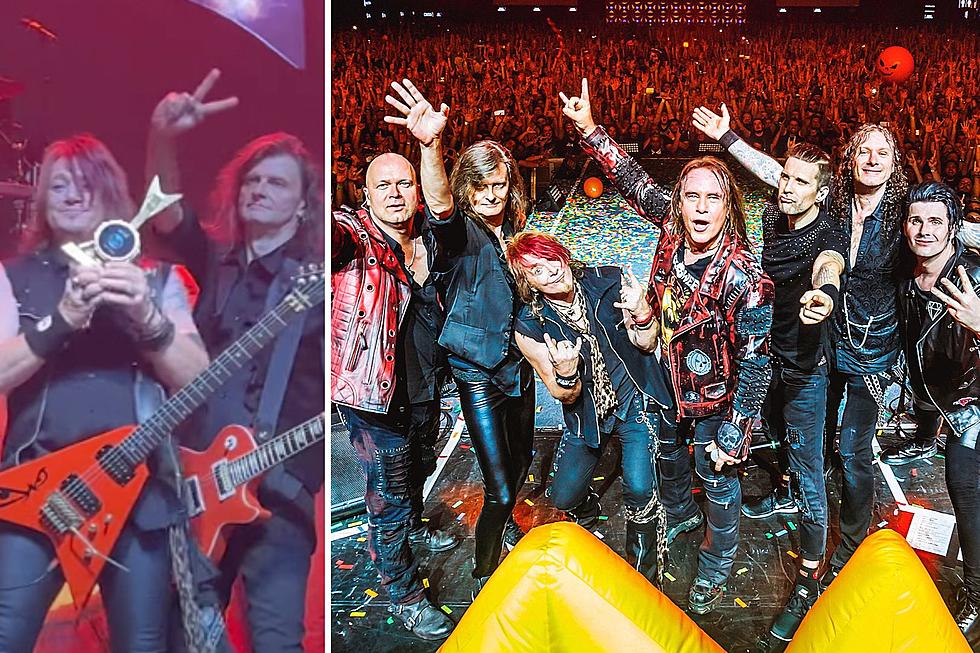 Helloween Inducted Into Metal Hall of Fame Onstage in New York
YouTube: Bernd J. Schuster / Foto Fábio Augusto
Onstage at Terminal 5 in New York on Saturday (May 20), German power metal legends Helloween were inducted into the Metal Hall of Fame.
After the band performed their classic 13-minute epic, "Keeper of the Seven Keys," as the second song of the first of two encores, Arch Enemy singer Alissa White-Gluz took the stage, followed by Metal Hall of Fame founder and CEO Pat Gesualdo and 2018 Metal Fall of Fame inductee Munsey Ricci.
White-Gluz primed the crowd for the big moment, thanking Helloween for four decades of "exceptional metal." The band's catalog stands at a towering 16 studio albums, the latest being a self-titled affair, the first of the modern era which features the lineup that's been in place since 2005 as well as returning classic members Michael Kiske (vocals) and Kai Hansen (guitar/vocals).
The band was in the midst of a North American tour with HammerFall when making the stop in New York, which was an especially memorable one thanks to the onstage induction. View fan-filmed video footage of the event below.
"Helloween have helped establish the origins of the power metal genre. We are proud to have Helloween represent the genre and it's fans throughout the world, and to have Alissa White–Gluz join us in the Induction as well," comments Gesualdo.
"It´s truly an honor to be inducted into the Metal Hall of Fame! Being listed next to some of the biggest bands in rock and metal makes us very proud and is rewarding our work as "The Ambassadors of Power & Melodic Metal" for the last four decades," adds guitarist Michael Weikath on behalf of Helloween.
Earlier this year, the Metal Hall of Fame inducted Twisted Sister, guitarist Doug Aldrich (Dio, Whitesnake, The Dead Daisies), Raven, guitarist Chris Impellitteri and Foreigner singer Lou Gramm.
Head here to see the remaining dates on Helloween's North American tour, which ends on June 3. Get tickets here.
Helloween Setlist — May 20, 2023 (via setlist.fm)
01. "Skyfall"
02. "Eagle Fly Free"
03. "Mass Pollution"
04. "Future World"
05. "Power"
06. "Save Us"
07. "Walls of Jericho"
08. "Metal Invaders" / "Victim of Fate" / "Gorgar" / "Ride the Sky"
09. "Heavy Metal (Is the Law)"
10. "Forever and One (Neverland)"
11. Guitar Solo (Sascha Gerstner)
12. "Best Time"
13. "Dr. Stein"
14. "How Many Tears"
Encore:
15. "Perfect Gentleman"
16. "Keeper of the Seven Keys"
Metal Hall of Fame Induction
Encore 2:
17. "I Want Out"
Helloween Inducted Into Metal Hall of Fame — May 20, 2023
Top 25 Power Metal Albums of All Time
PLAYLIST: Ultimate Power Metal
Over 175 songs! Listen/follow here.