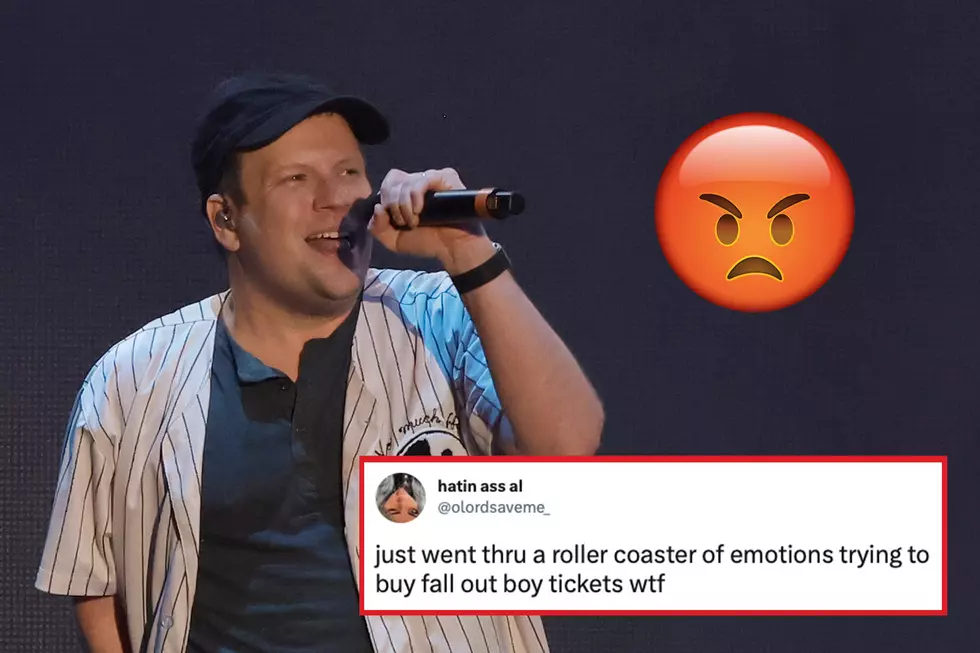 Looks Like Fall Out Boy Fans Are Having a Hard Time Buying Tickets
Kevin Winter, ,Getty Images / Twitter - @olordsaveme_
At this point, it's safe to assume that anytime a musician with a large following announces a tour, there's a chance that it's going to be a struggle getting their concert tickets. That said, Fall Out Boy fans are apparently having a hard time getting tickets to their upcoming tour, as noted by some posts on Twitter.
Fall Out Boy's 2023 North American tour is set to kick off June 21 in Chicago and will wrap up in early August, with Bring Me the Horizon serving as direct support. The run will see the duo play shows in both pavilions and stadiums, and Alkaline Trio will join for a few of the dates. New Found Glory, Four Year Strong, The Academy Is…, Royal & The Serpent, Games We Play, Daisy Grenade and Carr will open select shows throughout it as well.
Tickets for the tour are on sale today (Feb. 3), but some fans were apparently experiencing some issues securing them. The band addressed the matter themselves in a tweet, but didn't specify what had actually happened.
"There was a temporary glitch on the ticketing systems but it's fixed! Time to get tickets," Fall Out Boy wrote.
Though it seems many fans have been able to get tickets since the issue was resolved, some are still experiencing problems with Ticketmaster's waiting queue, and others have pointed out that the ticket prices have gone up. See some of the posts below.
As of now, Fall Out Boy only have a North American tour booked and one festival performance in Japan later this year, but they teased a trek to the U.K. in a tweet to a fan.
"If Fall Out Boy don't tour the U.K. I'm gonna be pissed," the person wrote.
"Don't worry, you won't be pissed," the band replied.
In the meantime, you can get Fall Out Boy tickets here.
Artists Who Tried Their Best to Combat Scummy Concert Ticket Practices