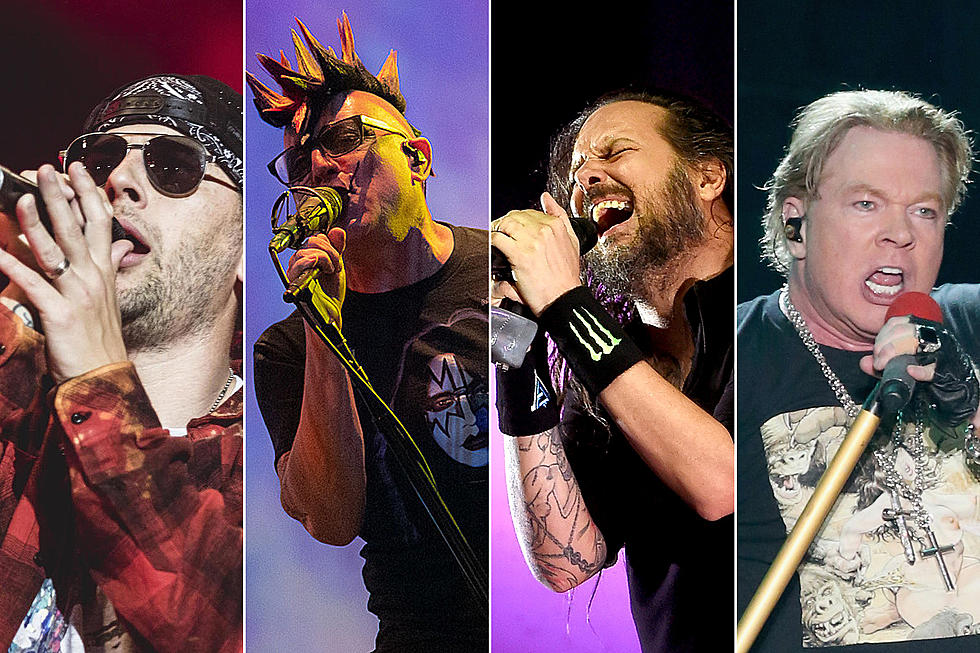 2023 Aftershock Festival Lineup Revealed – Avenged Sevenfold, Tool, Korn + Guns N' Roses to Headline
Gina Wetzler, Redferns / Kevin RC Wilson / Kevin Winter / Gary Miller, Getty Images
After recently teasing that Guns N' Roses would be one of the 2023 headliners of the Aftershock Festival, organizers Danny Wimmer Presents have now confirmed the whole lineup, which will also include headlining sets from Avenged Sevenfold, Tool and Korn.
The West Coast's biggest rock festival will once again take over Sacramento's Discovery Park the weekend of October 5-8, providing rock and metal fans with four outstanding days of music. Last year, the festival set records by playing to an audience of 160,000 music fans and bringing in nearly $30 million to California region.
Other major acts of note playing this year's festival include Incubus, Turnstile, Godsmack, Limp Bizkit, Pantera, 311, Queens of the Stone Age and Rancid. Godsmack frontman Sully Erna says, "Godsmack is coming in hot this year. Come join us and Guns N' Roses! Tool! Korn! and so many other killer bands at this year's massive AFTERSHOCK! We can't wait for everyone to hear our new album Lighting Up The Sky, which just came out! LET'S DO THIS!!!"
"We are so excited for what will be the biggest Aftershock in the festival's 11-year history," says Danny Hayes, CEO of Danny Wimmer Presents. "We are grateful for our partnership with the city and county of Sacramento and together we have built an amazing brand that showcases Sacramento to attendees from all over the globe."
READ MORE: Guns N' Roses Announce Huge 2023 World Tour
"Aftershock has become synonymous with Sacramento, and we couldn't be more excited for the festival to be back this fall with such an incredible lineup," said Mike Testa, President & CEO of Visit Sacramento. "The city is already gearing up to welcome rock fans from across the country and around the world. Aftershock supports our local businesses, creates jobs and brings unmatched music to our city – October can't come fast enough."
So how does it all break down? The daily lineups have already been divvied up with Avenged Sevenfold headlining Thursday night (Oct. 5) with Tool leading the Friday bill (Oct. 6), Korn topping the Saturday lineup (Oct. 7) and Guns N' Roses bringing Aftershock 2023 to a climactic close on Sunday (Oct. 8). See the full daily lineups below:
Thursday, October 5: Avenged Sevenfold, Incubus, Turnstile, The Cult, AFI, Pennywise, Nothing But Thieves, L7, White Reaper, Senses Fail, Don Broco, The Bronx, Nothing, Nowhere., DeathByRomy, Beauty School Dropout, Bob Vylan, Holding Absence, Pinkshift, Thousand Below, Starbenders, SeeYouSpaceCowboy, Static Dress, Letdown.
Friday, October 6: Tool, Godsmack, Limp Bizkit, Megadeth, Coheed and Cambria, Skillet, Bad Omens, The Hu, Deafheaven, Memphis May Fire, Converge, Fire From the Gods, Polaris, Rain City Drive, Gideon, Currents, Varials, Strange Kids, Dragged Under, Tallah, HANABIE., Widow7, Death Valley Dreams
Saturday, October 7: Korn, Pantera, 311, Corey Taylor, Parkway Drive, Babymetal, Polyphia, Dethklok, Avatar, Fever 333, The Amity Affliction, Sleep Token, Escape the Fate, Boston Manor, Fame on Fire, Catch Your Breath, Ten56., Reddstar, Holy Wars, '68, Ithaca, Devil's Cut, Traitors, Fox Lake, All Waves, As You Were
Sunday, October 8: Guns N' Roses, Queens of the Stone Age, Rancid, I Prevail, Dance Gavin Dance, Daughtry, Badflower, Billy Talent, Mayday Parade, Suicide Silence, Movements, Ayron Jones, You Me At Six, Dead Poet Society, Austin Meade, Alpha Wolf, Jehnny Beth, Redlight King, Tigercub, Call Me Karizma, Ryan Oakes, Gnome, Luna Aura, Asava
Aftershock single day and weekend general admission and VIP passes are on sale now, starting at $10 down, with payment plans amortized over five months. Festival goers are encouraged to buy now as prices will go up in the coming weeks. There are also hotel bundle options and park and ride passes are also available. Be sure to check the festival website for all ticketing, parking and lodging details.
2023 Rock + Metal Music Festival Guide
See what big rock and metal festivals are coming up in 2023!