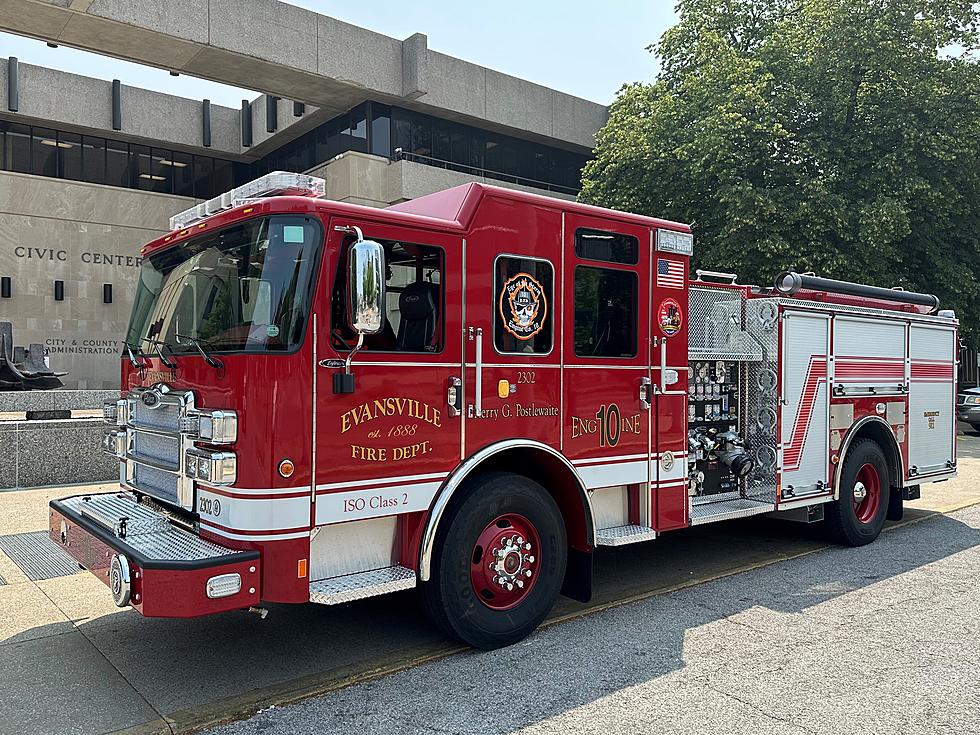 Evansville Fire Department Dedicates New Fire Engine in Honor of Fallen Firefighter [PHOTOS]
Evansville Fire Department
Members of the Evansville Fire Department, including Chief Mike Connelly and Captain Mike Larson, were joined by Evansville Mayor Lloyd Winnecke and Deputy Mayor Steve Schaefer for the dedication of the Department's newest fire engine during a ceremony inside the Ford Center on Tuesday.
New Evansville Fire Engine Named for Fallen Firefighter
The new engine, Engine 10, was named after Kerry G. Postlewaithe, a six-year veteran of the fire department who passed away in November of 2018. According to the dedication's invitation memorializing fallen firefighters by naming engines after them "has been a long-standing tradition" of the department. Members of Postlewaithe's family were in attendance for the dedication.
The new engine is a 2023 model built by Pierce Manufacturing in Appleton, Wisconsin. It has a gross weight of 44,000 pounds and seats six firefighters. It's equipped with a 500-horsepower Cummins X12 diesel engine capable of reaching a top speed of 68 miles per hour.
As for its capability in fighting fires, the top-of-the-line engine features a 500-gallon water tank and a water pump capable of pumping 1,500 gallons of water per minute. The total cost for the new engine was $654,000.
The new engine will go into service on June 28th and will operate out of Station #10 located on the corner of Heidelbach Avenue and East Columbia Street, a station Chief Connelly mentioned during his remarks at Tuesday's dedication is one of the busiest in the city.
Because of the amount of use it is expected to get, the life expectancy of the new engine is 15 years.
[Source: Evansville Fire Department]
Evansville Aerial Captures Heartbreaking Photos of December 31, 2022 4-Alarm Fire
Mark with
Evansville Aerial Photography
was able to capture some very 'In the moment' Photographs of the December 31, 2022, warehouse fire at 1421 N Garvin St, Evansville, IN 47711.
Follow his
Facebook page
for more amazing photos and drone footage of our beautiful city.
Southern Indiana and Western Kentucky Residents Share Photos of Smoke Cloud from Massive Evansville Warehouse Fire
The massive warehouse fire in downtown Evansville produced a huge cloud of smoke that could be seen by residents in surrounding counties, some as far as 30 miles away. Thanks to nearly everyone having a camera on them through their smartphones, several of them shared what they saw with us as they were making their way to work.