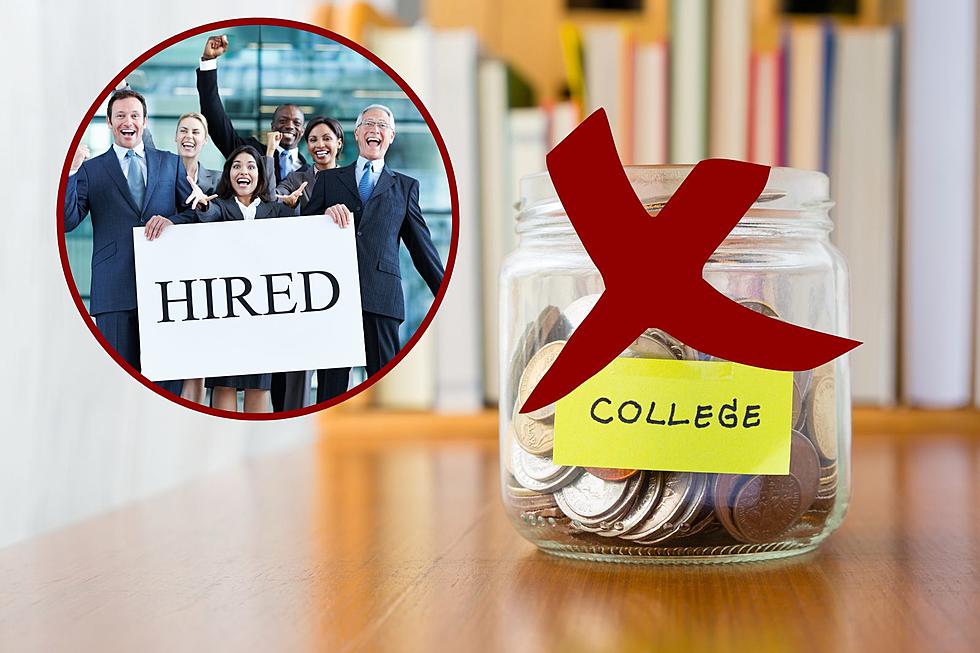 10 High-Paying Careers in Southern Indiana That Don't Require a College Degree
CANVA HIRED
Just because you don't have a college degree, don't count yourself out for a high-paying job in Indiana.
Police Officer
It takes a very special type of person to be in law enforcement. Simply knowing that you are putting your life on the line every day is a huge commitment. Helping the community and solving crimes doesn't pay all that should, considering the risks involved. You can make over $45,000 a year, and there will be opportunities for advancement and specialized positions.
Probationary Officer – 2023 Starting Salary $56,451.42 plus educational bonuses
All uniforms and equipment furnished for the first year
$1,300.00 per year clothing and equipment allowance after the first year
$3,500.00 increase upon completion of one year probation period, plus annual City increase
Longevity Pay
Paid $40,000 Life Insurance
Health, Dental, and Vision Insurance – Immediate Coverage
Free On-Site Health Clinic w/free medications
Vanderburgh County Deputy Sheriff
Probationary first-year base salary of $54,134 with an increase to $63,864 after the completion of one year of service.
Longevity pay
Clothing allowance ($1,500)
Annual educational bonuses for degrees: associate ($1,000); bachelor ($2,000); master ($4,000); or
An annual military bonus of $1,000
Shift differential of 3.5% of gross pay for second and third shifts.
Choice of health insurance plans
Paid life insurance
Member-owned retirement plan
Fire Fighter
I can't tell you if every firehouse is like Tacoma FD when the calls aren't coming in, but I can tell you that everyone at the department becomes your family. Fires and emergencies are never going to end, so choosing to become a firefighter can be a life-long career.
1st Year Probationary Salary, $56,883
Health, Vision, Dental and Life Insurance
State Pension Plan and Deferred Compensation Retirement Plans
Advancement opportunities
United States Postal Service
There are more jobs at the post office besides mail carrier that you might be interested in if you can drive a truck. To apply for the tractor-trailer operator position you will need a valid commercial driver's license and a clean driving record.
SALARY RANGE: Starting salary $30.43 per hour paid bi-weekly
What exactly does an adjuster do? This is the person that goes out to your vehicle after it's been in a wreck and assesses the damage. You can have a college degree for this type of job or certain areas of experience can substitute.
Instead of a degree, a combined total of five years of post-secondary education or work experience at least one of which is in automotive, appraisal/estimates, or insurance
$60,100 - $71,700 a year
Apartment Property Manager
You are responsible for running the apartment community. This requires great communication skills, attention to detail, and the ability to create a hospitable working environment.
Monarch Investment and Management Group
 Competitive pay up to $56k/yr salary based on experience
401k with 3% matching contribution to your account.

Bonuses based on property performance
Paid Time Off
 Holiday Paid Time Off
Medical insurance starts at $30
Customer Service Manager
The job description is basically the job title. Careers in the customer service arena can offer nice pay and benefits, especially if you are dealing with sales, too.
This position does not require a college degree, but attention to detail and management skills are a must.
Pay: $36,000.00 - $42,000.00 per year 
Working on The Railroad
My grandpa worked for the railroad, and after seeing the pay scale, I might just hop on board the next rain out of Evansville.
Projected first-year earnings: $85,500
Training rate while in Atlanta: $2,261.28 bi-weekly
On-the-job (OJT) training Rate: $2,713.52 bi-weekly
After OJT, guaranteed extra-board pay of $2,236.40 bi-weekly
The average earnings for new hire conductors in 2021 was $85,500, but could potentially be more with overtime opportunities.
Transportation Security Administration
The TSA is the security that you pass through before boarding an airplane. Some of the positions that become available within the TSA don't pay $45,000 but there are positions that can pay more with promotions.
U.S. citizen or national
18 years of age or older
High school diploma, GED or equivalent certificate
Restaurant Manager
Yes, the pay for a restaurant manager can be pretty high, but it is a lot of work. Positions like this require you to wear many hats and know every position, so you can understand how to train team members. You are keeping customers happy, and ensuring that experiences are consistent.
Pay: Up to $60,000.00 per year
401(k) matching
Dental Insurance
Health insurance
Vision insurance
READ MORE: See 50 remote jobs that can pay well
LOOK: The 25 least expensive states to live in