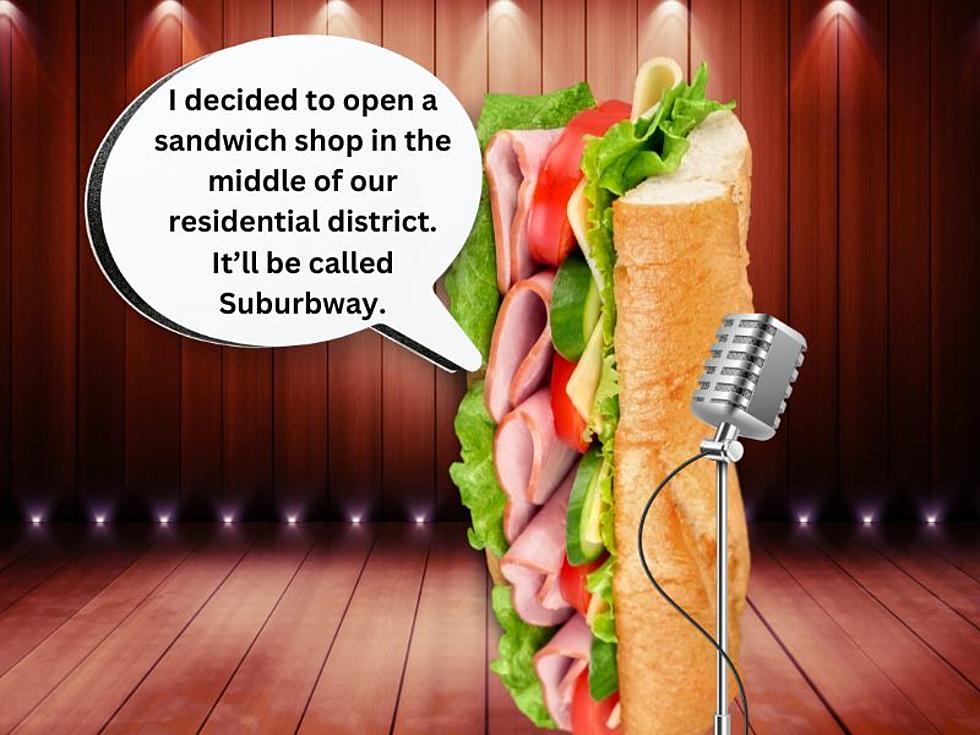 An Evansville Guy Tried Five National Chain Sub Sandwiches – Here's How He Ranked Them
Canva
Upon spending the majority of my evenings these past few weeks enjoying my spare time by primarily watching playoff basketball and making senseless online purchases, I was naturally exposed to an utter bombardment of targeted ads. And interestingly enough, almost every single consecutive commercial was from one of the major corporate sandwich chains. Thus, I came to a resolute awareness of two fundamental truths. Firstly, these huge sub corporations must spend an absolute fortune on marketing, and secondly, the only one I truly frequent is surprisingly Jimmy John's.
In the wake of being exposed to constant persuasive sandwich messaging and gaining newfound self-awareness of my eating habits, my girlfriend and I cobbled together a weekly schedule, channeled our inner food critic, and mentally braced for high-carb intake - all in preparation for our self-proclaimed: Evansville Sandwich Tour Week!
Evansville National Chain Sandwich Tour Every Business Day Week
As you can imagine, there are really only a few players that are national chains and have a storefront in Evansville. So I guess this really should be called "Evansville National Chain Sandwich Tour Every Business Day Week," but yikes that headline definitely wouldn't pull in views. Anyway, my hit list was narrowed down to five delis stacked across the Tri-State: Jimmy John's, Subway, Penn Station, Jersey Mike's, and Firehouse. With our mission parameters set and the taste buds set to Yelp review mode, Haley and I set off to begin a trip that had as many saturated fats as it did memories.
Heading into the week, I had a pretty set idea of which chain would prevail as Southern Indiana's finest national deli, yet I approached this citywide tour with an open mind. I had been subjected to heavy advertisements from Subway and Jersey Mike's, and to be completely frank here, I totally forgot Penn Station even existed. My only expectation was that this would be more of a side mission- just a pleasant evening activity and excuse to take quality iPhone pictures of my food for five days in a row- not like this was some sort of culinary revolution.
My presumptions could not have been more wrong. After five straight days of cutthroat comparisons, here's how the Battle of the Breads got ranked.
Disclaimer: Now, before you read this list and get really upset and decide to put a hit out on me, just remember, these are one guy's opinions. ONE GUY. OPINIONS. And, honestly, every dining experience is different. A sandwich at a chain restaurant can be great one day and the exact same order can be real crapola the next. So, take this all with a grain of salt and remember that this is all about getting you out to spend some money at our local eateries and try them for yourself. Okay? So, go ahead and call Big Al right now and remove the bounty. 
Fifth Place: Penn Station
Oh, you think you're the one who's mad that Penn Station placed plum last on this list? Imagine my dismay after being recommended by my close friends that this was the place we needed to save for last as it's that much better than the rest. I was tantalized by their stories of warm sandwiches and the option to pair your meal with fries, and was looking forward to this stop more than anywhere else on the tour.
I struggle to testify to how grave my disappointment was, especially after ordering their pizza sub that was made completely fresh along with the fries. How could any of that go wrong? Combine the lack of flavor with being told by the cashier that "everything here is amazing," I was genuinely underwhelmed with everything I had. It just didn't bring it. Maybe the hype gave me expectations that were too high. The stage was set for Penn Station to take top honors in the final stop of our tour, but after sampling the restaurant's lackluster offering, it would end up as last in the competition instead. Oh, how the mighty have fallen.
Editor's Note: Clearly, he should have tried the toasted artichoke mushroom sandwich. It takes top honors in my book. -ash
Fourth Place: Subway
Due to scheduling purposes and a sudden discovery of not one but three Subway gift cards that I stumbled across when organizing a kitchen drawer, the Evansville Sandwich Tour rolled into this household name of a contender in the very middle of the week. Subway is probably the most "mainstream," if you will, restaurant on this list; so it added a layer of excitement to what would be a pretty routine dining destination.
After rearranging the dining room to prop my phone and take a shameless selfie for this article, I settled in to indulge in my toasted chicken bacon ranch on white paired with Miss Vickie's sea salt chips. Sure, what we had was solid, but it just felt like another trip to Subway. Halfway through the meal, I totally forgot we were there as part of a competition, and that comprehensively sums up their rank. You know how some shows include an episode midway through the season that's about the characters that people don't particularly care for, but they have to make it since it furthers the plot? That's how this felt, so fourth place.
Third Place Jimmy John's
Freaky fast and always punching about their weight, the tried and true JJ's slots into the last podium spot amongst Evansville's sandwich shops. What I was impressed most by was the fact that I go here more than the other places, and my word do I go often. Don't believe me? Last year, I ate 168 inches of Jimmy Johns sandwiches, according to their own version of Spotify Wrapped. That's just over twice my height, friends.
However, I set my loyalty aside in the name of fair competition and even ordered the smaller version of my weekly Turkey Tom with a side of Thinny Jimmy Chips. I assumed recency bias would result in a lower score against the more premium sandwiches in this contest, but heavens me, this meal didn't come to make friends. Simplistic, stacked to perfection, and with a consistent texture, I was reminded yet again why I'm a rewards member. Even for the cheapest item here that's served strictly at room temperature, we were left extremely satisfied and convinced that it deserved bronze in the annual Evansville Sandwich Tour. JJ's just speaks to the soul.
Second Place: Jersey Mike's
Why did none of you frauds ever tell me how absolute gasoline Jersey Mike's is? This was actually the first stop we made, and I wasn't expecting it to be this life-changing. I didn't think it looked too appetizing from the commercials (you know, the one with Danny Devito), but their aforementioned marketing department did their research and allocated the funds correctly because they've turned me into a lifelong customer.
How is it possible that a sandwich genuinely gets better with each bite? We were left in awe as our #8 Club Sub just continued to bring top-tier flavor, and it was complimented extremely well by Miss Vickie's sea salt chips. I'm a notoriously slow eater, so you can bet your bottom dollar I took it nice and easy with my new pal Jersey Mike, as I wanted to savor every second of the experience. Yeesh, this thing was an absolute heater. Never did I know a sandwich could be assembled into such a masterpiece, and I'm grateful that I was able to bare witness.
First Place: Firehouse Subs
Before getting into the full analysis, let's get some housekeeping out of the way. Yes, this is the greatest thing to happen to bread since, well, you know. And while this is the best individual sandwich, it should be stated that Jersey Mike's was the best sandwich shop- as it had more than just one great option. Make sense?
After scanning the menu the choice was obvious, and we were quickly enamored with the Smokehouse Beef and Cheddar Brisket paired with, you guessed it, Miss Vickie's sea salt chips. Let's go ahead and give Miss Vickie her moment in the sun while we're here, as the chips became a stalwart companion to my food all week long. For a place that doesn't necessarily specialize in barbecue, this is- and I hope you're sitting down - the best brisket/barbecue sandwich I have EVER tasted. I went there. The conflict resides in that we were told by others that while this option was fantastic, it was the only thing worth getting on the menu. But Firehouse showed up when it mattered most, and thanks to their menu's lone superstar, they were rightly crowned as victors of the Evansville Sandwich Tour.
A Fun Spin On A Regular Week
All in all, creating a list and giving ourselves a reason to apply critical thought to dinner for five days straight ended up being just the right amount of adventure for what would've just been an ordinary week, and I highly encourage anyone to create their own little local contest. Don't agree with our results? What do we know, anyway? Gather your friends and set off on your own conceived grand tour of taste, no matter what the edible contestants may be! You'll have more fun than you'd realize.
Just a forewarning though, be prepared to lose sleep over how different corporations assemble meat and bread. But what comes next, or am I even dignified to be an amateur food critic anymore after my first go at it? Maybe we get another sub chain here in the River City that has to be added to the sequel, or maybe I'll host another tour in the form of different menu options. Regardless of the outcome, rest assured that our "Evansville Sandwich Tour" week was immediately followed by "Plenty of Exercise" week.
16 Indiana Towns with Dirty-Sounding Names
A majority of these towns were given their names in the mid-to-late 1800s as settlers making their way across the country found unclaimed plots of land and decided to make them their own. While I imagine they thought the names they came up with were innocent, and perhaps a tribute to something in their lives, pop culture has warped our minds to the point since then that we can't help but think of something about the town that was never intended by its founders. Take a look at this list. I guarantee there's at least one name that will make you chuckle.