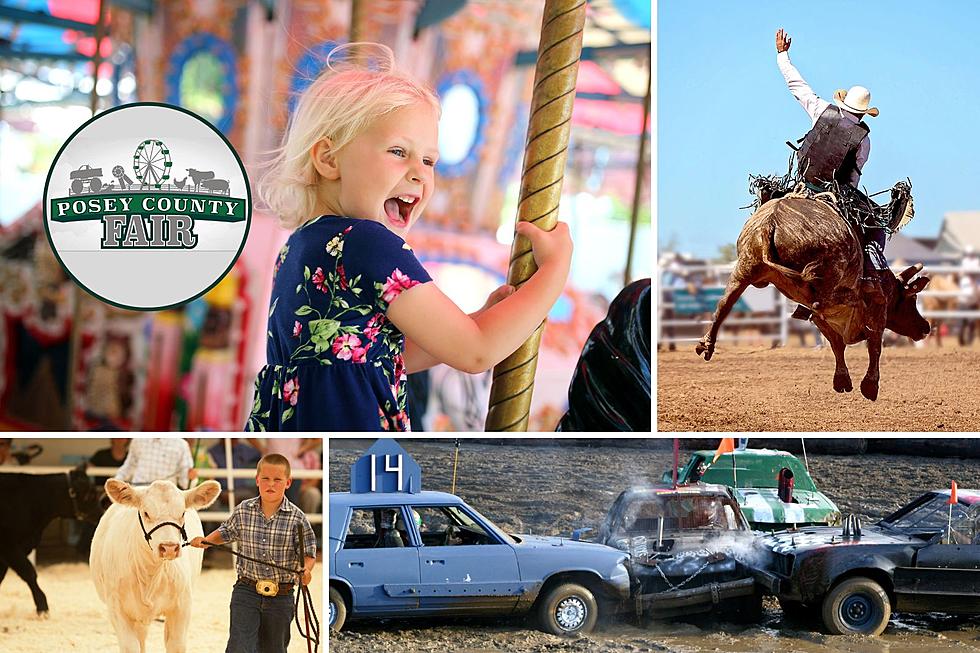 Schedule of Events/Activities for 2023 Posey County Fair in Southern Indiana
Canva
The 163rd annual Posey County Fair runs from July 17-22 at the Posey County Fairgrounds in New Harmony, IN. There are plenty of things to see and do throughout the week, including rides, games, exhibits, vendors, animals, concerts and so much more.
General admission is $8 per person each, although you can purchase a week-long pass for $30. Children 10 and under get in free. Veterans get in free on Wednesday, and first responders get in free on Thursday.
Here's a rundown of the various activities and events happening throughout the week.
Daily Events/Activities
Half pot ticket booth is open Monday-Saturday from 5pm-8pm
FREE carnival rides Monday-Saturday from 5pm-10pm
FREE kid's zone Monday-Friday from 5pm-8pm
Cincinnati Circus Company Stunt Show Tuesday-Friday at 6pm and 7:30pm
Monday, July 17th
7pm: Night one of the professional rodeo, including bulls, broncos, trick riders, and more (in the Main Arena).
Tuesday, July 18th
6pm: Tiny and Little Miss Contests in the Posey County Community Events Center (PCCEC)
7pm: Quad & Bike Drag Racing (KG track)
7pm: Night two of the professional rodeo (main arena)
Wednesday, July 19th (Veteran Appreciation Day)
FREE admissions for veterans
6pm: Beautiful baby contest (PCCEC)
6:30pm: Shelhorn Bros. Band with Katie York (stage)
7pm: Truck/Car/SUV drags (KG track)
Thursday, July 20th (First Responder Appreciation Day)
FREE admissions for first responders
6pm: Kid's pedal pulls (Kid's zone)
6pm: Mud volleyball (main arena)
6pm: Talent show (PCCEC)
6pm: Mt. Vernon Jazz Band (stage)
7pm: Truck, farm, and semi pulls (KG track)
Friday, July 21st
6pm: Cornhole indoor tournament (PCCEC)
6pm-10pm: Concert w/Kenna Elpers and beer garden (stage)
7pm: ITPA Pro Series tractor pulls (KG track)
Saturday, July 22nd
7pm: Demolition derby (main arena)
Visit PoseyCountyFair.com for more details and information about what's happening each day at the fair.
15 Things You'll Find in Every Southern Indiana Grandma's House
Whether you call her Grandma, Memaw, Nana, or something else you know that there are some things that they all have in common. The items you'll find in your grandma's house never seem to age, they are just always there. If your nana isn't around anymore, these photos will definitely bring back some memories for you.
15 Best Places for Fried Chicken in Southern Indiana and Western Kentucky
Regardless of whether you're a fan of white meat, dark meat, or all of it, if it's fried chicken you crave, it's one, or all, of these places you'll want to go to get it.